Start a Lemonade Stand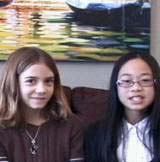 Anna and Hayley share the secret to how to drum up business for your money-making projects.


Spread the word
Let the people know you have a great product at a reasonable price.
If you're located in an area with high foot traffic and a hot sun, a single sign may be all you need.
But if you're out of the way, you need to work hard to tell people what they can get from you! Do as the people do for garage sales: Put up some colorful, homemade signs in the neighborhood pointing customers to your stand.
Name your price
Are you a Lemonade Czar?
"Pricing" means how much you charge for a cup of lemonade.
Charge enough to cover your fixed costs and make a profit.
What you can sell your lemonade for depends on supply and demand.
Define fixed cost:
How much money you find on the ground
Fuel prices
Taping together two halves of a dollar
The $5 you promised your sister to help you at the lemonade stand
Consider this:
Where else can people buy what you are selling?
How much do your competitors charge?
Are they close by?
You also can offer different sizes, at different prices. Try it, and see what happens.
No matter what, get ready to stand in the hot sun and cheerfully greet your customers!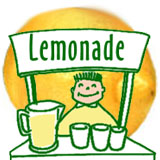 Click here to learn more about author Mike Baron.

Sell with a smile
It's not enough to be able to make lemonade; you have to sell it too. This is where your people skills come in.
Buying lemonade is a face-to-face experience. Customers will enjoy their glass of lemonade more if you serve it with a smile and personality.
If you're friendly, you have an advantage over your competitors across the street.
Smile, and after your success, grow your lemonade stand!

True or False: Andrew Jackson had a scar on his head for the majority of his life. Click Andrew's head for the answer.
TRUE: He received it a punishment from a British soldier for not cleaning the soldier's boots.
Tweet