Take Action Against the Freshman 15
Explore intramural sports.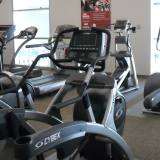 In a hurry?


Intramural sports are awesome for making new friends and enjoying some friendly competition. Most schools offer a variety of sports, from basketball to dodgeball.
Because intramurals are not varsity sports, they're easy to sign up for and tons of fun. Grab a few friends and make a team!
Exercise outdoors.
Going to a small college? Jogging
or biking
around campus is a great way to explore what's going on and to keep in shape, while getting around the fact that there may not be any workout facilities.
Plus, it's cheaper than joining a gym.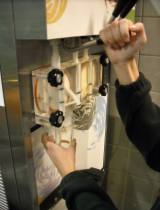 What's on my plate? Not this...


Eat this, not that
It can be hard to make good decisions about what to eat, especially in college. With temptations everywhere, it's hard to sort out what foods are beneficial and which ones could be potentially harmful to your waistline.
Here are some tips on how to eat healthy (and save money!):
Learn to eat nutritious food.
Choose My Plate provides a back-to-basics look at what and how much you should be eating. Click on the "Get a personalized plan" link on the right and find out what the best meal plan is for you.
For an 18-year-old who gets 30 to 60 minutes of exercise a week, here are the daily dietary recommendations:
Female: Eat 8 ounces of grains, 4 cups of vegetables, 2.5 cups of fruit, 3 cups of dairy, and 7 ounces of protein every day. Aim for 7 teaspoons of healthy oils daily.
Male: Eat 10 ounces of grains, 3 cups of vegetables, 2 cups of fruit, 3 cups of dairy, and 6.5 ounces of protein every day. Aim for 11 teaspoons of healthy oils daily.
These numbers are based on heights and weights that I made up. Visit the site to find out how much of each food group you need based on your height and weight.
Now, let's talk about breakfast...
Tweet