Advance Your Placement
Sign me up!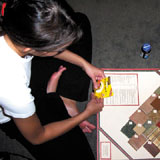 Claire at work.


Your first step is to talk with your high school guidance counselor or any of the advanced placement teachers at your school to find out which classes your school offers.
Depending on the size of your school there may be a lot of options or just a few. Most schools, regardless of size, offer at least a few courses.
Speak with the teacher about the requirements of the class and the intensity of the lessons and homework assigned.
Next step: enroll!
You can take AP online
If you are home schooled, or interested in taking an advanced placement course in a topic that is not offered at your school, there is another option:
Many high school students take these courses via distance learning through APEX. This program offers a good number of AP course on the Internet. The online courses teach the same information you would learn in the classroom.
Contact APEX online.


To stay on top of this independent workload, you should be dedicated and organized so you don't fall behind. The AP examinations are administered at a variety of locations, usually very close to the student's home. If this interests you, talk to a teacher at your school, or check out APEX for more information.
Challenge yourself
Want to take AP one step further?


Next time you are feeling like high school just might not be doing enough, think again. There is always another way to challenge yourself, and advanced placement courses are a unique opportunity to do so.
What could be better? You gain knowledge for the future and have a chance to see what college work is all about. You might even earn college credit without setting foot on a campus.
Good luck!

True or False: Benjamin Franklin is one of the founders of one of the country's major universities, University of Pennsylvania, which he opened in 1751. Click Ben's head for the answer.
TRUE: The school opened in 1751 and was officially named the University of Pennsylvania in 1791, a year after Franklin's death.
Tweet