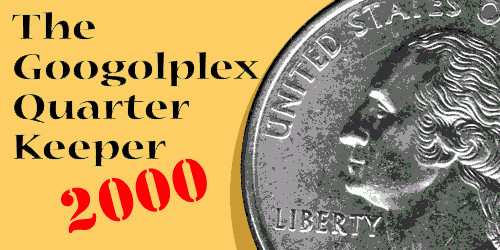 By now you've seen some or all of the five new quarter designs introduced in 1999. Another five are soon to be available—this year, the United States Mint is adding Massachusetts, Maryland, South Carolina, New Hampshire, and Virginia to the growing list of commemorative quarters in circulation.
Sounds like its time to add a page to your Googolplex Quarter Keeper. Here's how:
Click on the quarter image at the bottom of this page, and print out the next page that loads. Color it, adding as much additional design as you'd like—get creative!
| | | |
| --- | --- | --- |
| With scissors or an Exacto-Knife, cut the dotted-line slots in each quarter-space (get Mom and Dad's help if you need to). Then paste the page to a piece of thin cardboard for durability—a sheet cut from a cereal box should do the trick. | | Here's the release schedule for all the commemorative quarters. |
Now comes the most exciting part—start collecting quarters!
Look on the back of every quarter you get to see if you've matched one of the states on the Saver Sheet. Once you've got it, slide the quarter into the slot. Note that these slots are only made of paper, and can hide much of the cool designs on the back of each quarter, so you can also tape each quarter to the page with clear tape.
What? You say you missed getting your Quarter Keeper started in 1999?
Never fear...That's why Googolplex comes with an awesome archive of past activities! Click here to connect to the 1999 Quarter Saver.