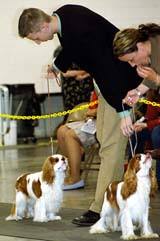 Time to line up!


Meet my master, Matt. Matt gets me into top condition so the two of us can compete in dog shows. But getting to the events is a lot of work!
First the basics
Dog shows reward the best dogs. At a dog show, dogs are judged by how well they match their breeds' traits, known as the "ideal standard."
At the end of every dog show,
just one dog
is named "Best in Show."
Before getting to the Best in Show competition, we dogs compete with others in our breed for the title "Best of Breed."
Best of Breed winners then compete in groups of similar breeds—working dogs, toy dogs, or hounds, for example.
Finally, the winners of each group compete together for the honor of being named Best in Show.
The American Kennel Club (AKC) is the largest organization devoted to purebred dogs in the U.S. Go to the AKC's website to find out about the more than 154 breeds it recognizes.
Behind the scenes
For Matt to succeed at dog shows, I must be a winner. And I need Matt to do that! Matt must:
Feed me a balanced diet.
Exercise me every day.
Bathe and groom me often—I love it!
Train me for showing.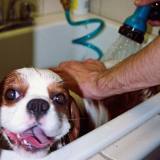 Matt bathes me the night before the show.


All of this takes a lot of time. Matt has to plan ahead so he can enter a show before the deadline, which is always long before the date of the show.
Matt takes time to get ready before a show. He says, "I like to allow an hour and a half before the show so that I'm not rushed to find my show ring."
Some shows have as many as 15 rings!
"The extra time also lets me take Wells for a walk and brush him one last time, which helps both of us to relax," adds Matt. I'm so glad that Matt has learned a lot of tips and tricks since his first show.
Next comes judging...