Strikeout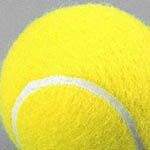 Get two or more players, add a tennis ball and a baseball bat...and watch out!


Strikeout is a ball game for two or more players. It's played with a tennis ball and baseball bat.
On a large windowless surface, such as a brick or concrete wall, draw a strike zone with chalk. (Ask for permission first.) The batter stands in front of the strike zone and the pitcher calls all strikes.
Give each batter three outs per inning, for either seven or nine innings. A strikeout, a caught grounder, or any fly ball that a player catches is an out.
When someone hits a ball past the pitcher on the ground, it's a single. If the player hits the ball over the pitcher's head it's a double.
Players decide the rules on home runs and foul balls before play begins.
Horse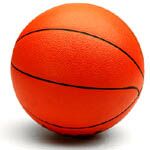 Here's 21—another fun B-ball game!


Horse is a fun basketball game designed for two or more players.
To play, one player shoots the ball from anywhere in any fashion. The shot can be a jump-shot, lay-up, slam-dunk or none of the above. A player could even bounce the ball off the court and into the basket if they wanted. Usually the more creative the shot the better.
The opposing player or players then have to make the exact same shot from the exact same position. If they miss, they get a letter. The first person that spells h-o-r-s-e is the loser.
If you are strapped for time you can play p-i-g.
To add some spice to the game play tips.
Had it with balls? Try Kick the Can...