Financial Crisis?
Worried about tuition?

Some families qualify for financial aid, but sometimes that aid includes a loan that must be repaid.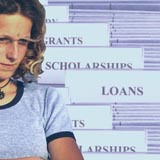 Dig deeper for scholarships.


It's time to intensify your search for scholarship money. That's basically free money and can help reduce the need for loans.
If you're involved in sports, you might qualify for an athletic scholarship.
Search scholarship databases on reputable web sites. You can "opt-out" of receiving unsolicited offers, and other ads to protect yourself from spam. Some good sources are:
scam
. The College Board offers tips on how to tell which scholarships may be trying to drain to your account.
Stay positive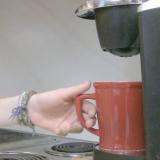 Jessica shows you Small Ways to Save.



When times are tough, make sure the family has time together. "Eat at the dinner table and talk. Ask 'How was your day?'" says Jeremiah.
Jeremiah adds, "Talk about family stuff, like how everyone's doing in school. Have family meetings where you can talk about ways to save."
Shylo also emphasizes the importance of family. "Definitely spend time together as a family. If you're having hard times and you're not around each other much, it makes it even tenser."
"Have a meal or play a game together. Make compromises with everyone so that the family gets through it together," adds Shylo.
Cutting back on expenses doesn't mean the fun is over. It just means being more careful and trying harder to get more for your money.
"We do more fun stuff at home," says Stephanie. "We play badminton in the back yard. We watch movies on TV rather than rent."
After the crisis
When the crisis is over, learn from the experience and prepare for the future.
"Keep doing what you've been doing. Do the cutbacks, but keep positive," says Stephanie.
Shylo suggests, "Even after you've got things stable again, still work on saying, 'I don't really need this.' Save money for a family vacation rather than buying that new iPod."
Tough economic times can be hard, but when family members work together, you'll get through the problems now and be more financially secure in the future.

True or False: Franklin walked across the state of New Jersey. Click Ben's head for the answer.
TRUE: Even though it was illegal to run away, when he was 17, Franklin left Boston and took a boat to New York. He walked across New Jersey, finally arriving in Philadelphia via a boat ride.
Tweet