Football Like Nothing Else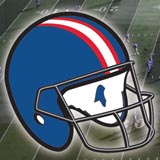 Gotta pay for those uniforms somehow!
Fund raising
There is little or no cost to play middle school football. But it has to be paid for somehow, right?
Right. It's paid through fund raising.
All team member are obligated to at least take part in the fund raising, even if they don't sell everything they are given. If you don't do your part in fund raising or you don't sell all of what you're told to sell, there will most likely be a
consequence
from your coach.
What is the purpose of wearing a football helmet?
Protect the fans from
your throwing arm
Protect your head from
a major injury
Protect the ball from
concussion
We had to sell coupon books and it wasn't easy. If you want it to be a little easier, sell it to your family and friends first, then go door to door selling what is left.
Be enthusiastic, polite, and knowledgeable about your product. Always address the possible buyer as "sir" or "ma'am," and never make any sarcastic comments.
When selling, wear a shirt that shows your team logo. Smile a lot, and try to convince the buyer they will get more than their money's worth out of the product.
Don't go door to door in a neighborhood that is not your own, for your own safety and because it will make your potential customers feel safe too. Also, that way you won't get lost.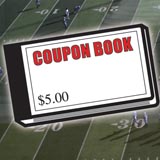 Would you rather sell coupon books or clean bathrooms?
I know all of this may be hard to do when selling door to door. But just think: If you do all of this, you won't end up like me, cleaning the stadium bathrooms!
The benefits outweigh the costs
As you can see, middle school football is a fun sport that can come along with some costs, but you have plenty of options to offset expenses.
If you believe playing middle school football would be fun, the benefits outweigh the costs.

True or False: Andrew Jackson believed the Earth was flat. Click Andrew's head for the answer.
TRUE: Even though Ferdinand Magellan established the earth is round as early as the 1500's, Jackson still believed the Earth was flat.
Tweet