Financial Duel in the Desert
First we prepare our presentation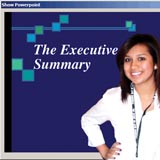 What goes in an executive summary?


We decided to divide into two separate teams, in hopes of having a better chance of winning first place.
Our teams worked separately to come up with different solutions. Everyone on the team had different jobs to fill. My job was to create the PowerPoint presentation for our team and I also served as one of the four presenters.
In our presentation we suggest the short term, mid term and long term suggested solutions to help our client eliminate debt.
After many hours of practicing for the presentation we're satisfied with the outcome. We create the executive summary of the presentation for the eight judges.
Show time

Once we arrive at the University of Arizona we're escorted to the ballroom, where we hear words of wisdom from the keynote speaker. Then we select our presentation times.

Luckily, I get to choose the time slot where we'll present our solutions. In previous years, we've always chosen the last time slot, so we can have enough time to practice our presentation.
The judges in the competition have certain expectations:
We need to maintain an exemplary level of conduct and ethical behavior.
We must dress professionally .
In addition, when giving our presentation, we know we will be judged on our creativity, innovativeness, thoroughness, depth of thought, and professionalism.
My team and I decide that we will wear black pants and white dress shirts. In addition, the boys will wear blue ties to separate us from our second team, wearing red ties.

When it's our turn to present, we walk on stage and wait for the timer to begin. We have 12 minutes to present our solutions.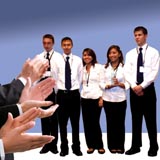 The cheers are a great ending to our presentation!


From our perspective, our presentation is flawless. We present the solutions exactly the way we have practiced. We inform the judges of the different resources and programs available to help eliminate the seemingly insurmountable debt faced by our client.

During our question and answer session, the judges drill us on why we recommend the solutions that we have presented. The applause is the loudest I've ever experienced in the three years of being involved with this program!
The judges and parents of our team members have smiles on their faces. We feel good that we've delivered our solutions in a professional manner...
Tweet