Used Cars: Inspect Before You Buy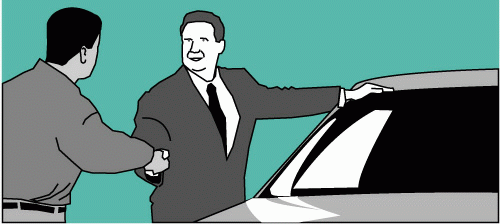 Used cars: Inspect before you buy
Part IV of a series about selecting and financing your first car
Nothing separates a fool and his money faster than emotion. It's an old adage, but it definitely applies today when it comes to buying a used vehicle. If price and dependability are important, you'll need to separate emotion from practicality. A car that looks good but doesn't run is about as useless as two steering wheels.

Follow these cardinal rules for buying a used car:
Expect repairs

Always figure on putting money into a used car immediately. Say your budget allows you to spend $3,500 on a used car. Instead of using all of your money for the purchase, look for a car in the $2,000 to $2,500 price range. Then you'll have $1,000 to $1,500 to spend on whatever the car needs--such as new tires, brakes, battery, or a tune-up--to provide safe and reliable transportation.
You'll be much happier with your wheels than if you don't set aside money for the repairs that used cars always seem to need right away.
Check it out thoroughly

Never buy a used vehicle before inspecting it carefully. Take someone with you, preferably an experienced car owner. Another set of eyes and ears can save you from making a serious mistake, especially if you're buying your first car.
A thorough check inside, outside, and all around the car will determine its quality. This handy "Smart shopper's used-car checklist" will help you know what to look for...and what to look out for. Use it to make sure you don't overlook anything important.
It may seem obvious, but sometimes buyers neglect the test drive, a foolish oversight. Never, ever skip this step, no matter how eager you are or how trustworthy the seller seems to be.
When you think you've found "it," have an experienced mechanic check out the car. It may cost you fifty bucks or so, but it could save you hundreds, even thousands, down the road. Mechanics are trained to see and hear things you would never think of.
Take your time

One of the costliest mistakes buyers make is allowing themselves to become emotionally attached to a vehicle they don't yet own. This gives sellers the opportunity to take advantage of that emotion and hold out for a higher price. If you jump up and down and scream, "I just love this car!" the seller will take you for everything you've got.
To keep your emotions in check, try this trick: pretend the car is the opposite of what you really want--if you're looking for fire engine red, pretend the car is pink; if you're aching for a convertible, pretend the car is a station wagon.
Give yourself time to think it over--this purchase should not be a quick, impulsive decision.


True or False: Franklin was one of three people who wrote the description for a seal of the United States of America. Click Ben's head for the answer.
TRUE: On July 4, 1776, the Continental Congress appointed a committee consisting of Benjamin Franklin, John Adams, and Thomas Jefferson 'to bring in a device for a seal of the United States of America.'
Tweet