Technology, You, and the Future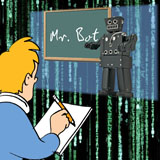 Which came first? Test your invention smarts!
The school bell rings and you take your seat in the comfy recliner in the family room. You hold your portable keyboard on top of your lap.
You put on your headset and listen to your robot virtual teacher robot. You chat with your classmates who are actually sitting in their homes, just like you! At the touch of a button, you have a hologram right in your living room with an interactive exercise you have to complete.
Time for a break! You take a bite of the turkey sandwich your personal robot assistant has prepared, just for you.
Then it's back to the grind!
While this may sound futuristic, this scenario is inches away from reality.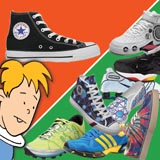 Your grandparents only knew one basic tennis shoe.
Technology changes everything
In the past few decades, advances in technology have changed our daily lives.
Technology influences how we communicate, how we work, and how we live. It's also created many new jobs and a need for more employees with technical skills.
To put this in perspective, when they were your age:
Your parents didn't dream of spending an evening playing games online with their friends. Computer games didn't exist. The World Wide Web wasn't introduced until 1991!

Your great-grandparents never watched sporting televisions on TV because television was unknown.
Forbes says technology made Bill Gates one of the richest people in the world.
Computers, computer games, fancy athletic shoes, TV—things that are so routine in your lifetime—have all been created over the past three generations!
It's anyone's guess, but the one certainty is that the need for technical workers will increase...
Tweet