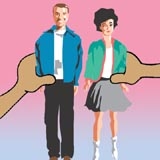 It's Darbie's world...the rest of us just live in it.
Who's Darbie?
He's a stylin' dude who just graduated from college and entered the workaday world.
Darbie knows you only get one chance to make a first impression, and the impression he wants to make is clean, smart, and modern.
And he has a dazzling smile!
Darbie's got plans!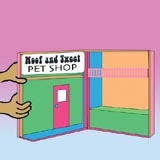 Darbie loves animals and plans to open a dog salon where he'll offer doggie hair styling, spa treatments, claw treatments, and personal trainers.
He manages Woof and Tweet Pet Shop, doing everything from grooming poodles to ordering pizza for pampered Pomeranians.
Darbie found his dog Archie at the animal shelter. He got him by paying $40 and attending new dog-owner classes. Archie weighs 60 pounds and looks like a haystack.
Darbie gave Archie a haircut once. For a while, Archie looked like a giant Chihuahua.
Darbie's spending habits
Only $2,384.02?
Darbie's monthly salary is $2,665, before taxes. He gets to see $2,384.02 of it, and it sure goes fast! Here's where it goes every month:
Darbie's cyber-wired apartment, a slight upgrade from the "roach trap" he lived in as a student, costs $710;

Automobile insurance, car payments, and fuel guzzle almost as much as his rent: $699.80;
What happens when you save $100/month!
Savings account: Darbie knows the value of early saving and compound interest, so he saves $100 a month in his savings account;

Darbie food, dog food, utility bills, baggy pants, video games, energy drinks, DVDs, and entertainment eat up the rest - $874.22.
INCOME
$2,384.02
EXPENSES
Housing (Darbie's cyber-wired apartment)
$710.00
Auto (Car payments, insurance, fuel)
$699.80
Savings (Some of it for Darbie's dream pet salon)
$100.00
Food & Entertainment (Darbie food, dog food, utility bills, and entertainment)
$874.22
Total expenses
$2,384.02
Total expenses = Total income
Darbie could take a roommate and split the rent, but he's had roommates before. One was an aspiring rapper who practiced from midnight 'til 2 am. He made his own beat on the hardwood floors with a basketball.
Yo, y'all, gotta story to tell
It's the middle of the night
And I gotta yell...
Break it down
Woof Tweet pays Darbie's health insurance. He's only twenty-two, and doesn't expect problems, but you never know.
If Darbie's employer didn't pay for his health insurance, he'd probably buy it from a guy in a cheap suit and a rental car.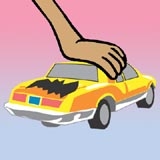 Darbie drives a 1990 Riviera, which his girlfriend Jen calls the bat cave.
Rivieras usually carry high insurance rates. But this one is old, has an I Brake For Ducks sticker and an automatic transmission, so Darbie's insurance premiums are low.
Fuel, on the other hand, is through the roof.
With gas over two bucks a gallon, it costs Darbie $35 to fill the tank. That's $140 a month in dead dinosaurs.
Darbie could trade the bat cave in on a compact. But where would Archie ride?
Darbie the interior decorator.
Gas and electricity for his apartment, plus cable and broadband, cost a $100 a month. Darbie and Jen would like to go out for dinner and a movie twice a month - that's $150 at least.
Darbie has convinced Jen that it's more fun to eat at home and rent movies!
Darbie the smart shopper
Darbie's a smart shopper. He grabs a free lunch by visiting all the free samples at the grocery stores. Sometimes he munches on dog biscuits.
He never goes to the grocery store without a list - and he scans newspapers for coupons, sales, and bargains.
Darbie gets a gallon of milk free every time he fills his punch card at the gas station convenience store. A dozen eggs cost $1 but it's cheap protein.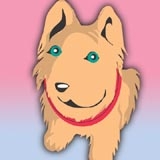 Archie loves skinless boneless chicken so Darbie buys large family packs when they're on sale and saves a lot of money that way. He puts the individual pieces in plastic bags and freezes them.
The best part is that Archie will eat them frozen or thawed, still in the bag - he doesn't care!
Darbie wouldn't be caught dead without the right shoes. He'll spend $100 on shoes, so he shops the sales and checks out the web before he buys.
Once, Archie ate his favorite shoes. Right now, Darbie is looking for the best price on the coolest shoes - Smoogleshrecks.
You go, Darbie!


The Real World.
At Woof and Tweet, Darbie learns what dogs and their owners want. You don't give a French curl to an English Wolfhound. If you clip all the hair around a sheepdog's eyes, it will need sunglasses. And never, ever give a dog chocolate.
Woof and Tweet gives Darbie the income to be able to live on his own. By staying within his budget, Darbie saves money every month. When he opens his own dog salon, he'll use some of that savings.
The next time you see a yellow Riviera with a black bat painted on the trunk and a haystack leaning out the passenger window, wave hello to Darbie, future stylist to the dogs.
Now the question remains: should he call his salon The Pampered Pooch? Or Putting On The Dog?
by Mike Baron
Tweet