Be a Frosh Phenom!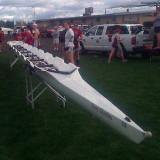 Get ready for a workout!


Have you ever considered joining a sports team in college? I sure didn't! That is, until I was at a barbeque the beginning of my freshman year and a member of the rowing team encouraged me to try out.
Washington State University Rowing Team
Although it wasn't something I had considered doing beforehand, I decided to go for it—and I made it! During the school year, I practiced, competed, and became close friends with my new teammates—all while taking classes.
Even though it required a lot of hard work and buckets of sweat, I loved every minute of it!
In case you're considering, here's the lowdown on joining a college team your freshman year—and my experience.
Go For It!
So, why should you even consider going out for the team? Think about it. You gain so much:
Strength
Confidence
All the benefits that come with being an athlete
You have nothing to lose. If you have the desire to join a team, you should try. Seize the opportunity—many sports teams hold tryouts for their freshman/novice teams. They typically have a high rate of advancement to varsity later on.
Don't spend the rest of your college career wondering, "What if?" You never know until you try!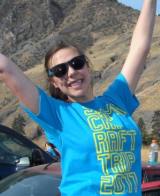 Being an athlete has its perks!


Being a college athlete definitely has its perks. However, when you're a freshman, it's almost a completely new lifestyle that you have to adopt.
It varies from sport to sport and from school to school, but you should be ready for two practices a day. The first practice typically will start early in the morning--mine starts at 6:30! The second practice usually starts in the afternoon or evening, after classes.
A typical day in the life of a college athlete is filled with
practice and schoolwork
. I had to adjust my lifestyle to meet the needs of rowing.
For example, because our practices started so early in the morning, I had to make sure to eat a full dinner the night before. That dinner is the meal that got me through the morning practice.
There are huge advantages to being a college athlete...
Tweet