Get Used to it: Life on the High Seas
From boat to land
It's time to head back to shore. The fishermen's boats are laden with fish.
These fish are put into buckets and hand-carried to the shore, and then washed with a fish-washing machine. The machine, made from stainless steel, rinses each fish and removes its scales.
Once all the fish are washed, they are put back into the buckets, covered in ice, hoisted onto a truck and then transported to wet markets around the island.
There are other activities at shore: Helpers haul sacks of bait onto small sampan boats which ferry the bait to larger fishing ships anchored in deeper waters.
"This helps the large ship owners to save money," explains Captain Ah Min. It costs more for them to steer large ships back to shore.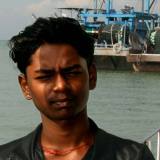 Dharma helps his family pay their expenses.


Penang is home
At Teluk Kumbar, people live in houses made from concrete and wood. Children ride bicycles around the neighborhood and families raise chickens in their backyards for food.
Dharma, who is the oldest of four children, gives his parents about RM$10 (US $2.80) a day to help with household expenses.
This money goes into helping his mother, a housewife, and his father, a bus driver, pay for electricity bills and his siblings' school fees.
Time to hang out
On some weekends, Dharma and his friends take a trip to Georgetown, the capital of Penang.
Georgetown is located on the Northeast corner of Penang Island and has about 400,000 inhabitants. It was founded in 1786 by the same person who founded Penang, Captain Francis Light.
Georgetown is known for its colonial-era shop houses and is architecturally rich. Most of Georgetown's population is of Chinese origin.
His father also drives the entire family to Georgetown about once every three months for a good meal of Nasi Kandar, pork ribs soup, Tandoori chicken or curry dishes with rice.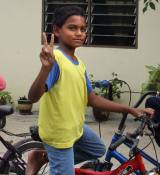 The kids in Penang say "hi!"


It is a treat for the family who would otherwise eat home-cooked rice with fish.
Eating out in Penang is inexpensive by American standards: A family of six, like Dharma's, pays an average of RM$30 (US $8.50) for a hearty meal.
When with friends in the city, teenagers watch movies or go window shopping. Each movie ticket costs about RM$4 (US $1.13)—the window shopping is free!
Dharma says he likes Georgetown because the roads are paved and clean, unlike the dirt roads in his village.
He says: "My favorite movie is Spiderman. It has Malay subtitles. The girl in it is so pretty! It is a good break before starting work again on Monday."

True or False: Franklin was allowed to mail letters without charge. Click Ben's head for the answer.
TRUE: As postmaster, Franklin could mail letters free of charge. To show his commitment to gaining independence from the British, he signed his signature "B. Free Franklin."
Tweet