Safety Before Style
Personally un-cool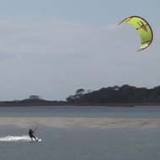 Here's a sport to test your cool: kite surfing!


Many people don't wear protective gear, but,
no one
is good enough at a professional sport that requires protective gear to
not
have to wear it.
According to a news release, a kid named Eric Field was holding onto a friend's car while riding a skateboard. He fell off of the skateboard.
Since he wasn't wearing a helmet, he got a bruise on his brain. He was no longer able to skateboard.
The fall triggered a subdural hematoma and four skull fractures. His mom says, "Whenever we would buy him the knee pads or elbow pads, they'd last for a day or two and then he'd put them away because he wouldn't see anyone else wearing them." Field has now quit skateboarding.
BMX champion Dave Mirra says that he had a lot of early injuries that could have been prevented by wearing safety gear. He also says that too many people worry about looking cool and don't wear safety gear.
I've seen adults in my neighborhood riding mopeds without helmets. One got her memory messed up for a little while after falling from a bike while not wearing a helmet.
Just because they're putting their lives in danger doesn't mean you have to. They might think that they are cool, but they sure aren't.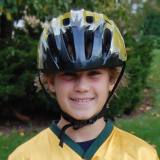 Your helmet is probably the most important piece of your gear.
The right helmet
Always wear protective gear, no matter what activity you're doing. What's important about protective gear isn't just that you have it; it's that you're fitted for the right kind.
Your helmet is probably the most important piece of your gear. The last place you want to be wounded is your head, and a helmet keeps your head safe.
In order for your helmet to actually protect you, take the time to make it fit correctly.
A poorly fitted helmet is worse than no helmet at all if it makes you reckless because you think you're protected.
Some bikers never wear helmets. They are the ones who may end up getting hurt. Even the best bikers occasionally fall. A good helmet will spare them a bad injury.
Once you have a sturdy helmet, you are good to go.
Pad the other parts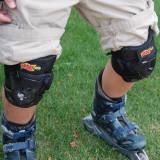 Knee pads are for everyone who rides.
Almost every kid I know rides a scooter. A helmet is important, just like it is with biking. You should also wear knee pads while on your scooter.
Everyone wipes out on rollerblades and skateboards. Therefore, a lot of safety gear is required. In addition to helmet and knee pads, you also need wrist guards and elbow pads.
Like helmets, elbow pads and wrist guards need to be worn correctly. Remember what happened to the girl from my school who broke both of her wrists?
Once your gear is on, you're ready to roll without worrying about getting hurt.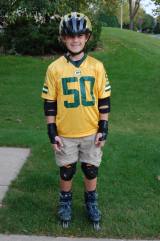 The well-dressed blader...
The cool
If you're still worried about looking cool, then make your protective gear cool. You can dazzle it up all you want—as long as you still wear it!
Paint it, or put stickers on it. Put a decal on your helmet. You can even paint your name on it. Add a photograph of someone or something on your pads.
Look around the skate park: Most of the kids doing the amazing stunts are wearing protective gear. Their helmets are covered in funky stickers, bumper stickers and decals.
Time to roll!
What's most important thing about safety gear?
It looks cool
It costs a lot
You have the right kind
It fits correctly
Next time you go for a bike ride, put on your rollerblades, or hop on your scooter, remember this:
Wearing safety gear can be the difference between spending your summer watching your friends do activities that you want to be doing, and actually doing what you want to do.

True or False: Andrew Jackson's pet parrot wasn't allowed to attend Jackson's funeral. Click Andrew's head for the answer.
TRUE: People couldn't keep the parrot from swearing.
Tweet