Want to learn how to knit? The hardest part about knitting is holding the needles correctly.
If you want to start knitting, ask a family member to teach you. I learned to knit from my mother. Once a week, we would practice.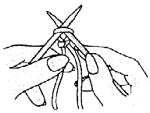 Try these basic steps to knitting.


Don't Give Up!
When knitting for the first time, it's challenging, but don't give up. Once you get the hang of it, knitting becomes as simple as tying your shoes.
You will be glad you stuck with knitting. It calms you and can make great gifts such as scarves, sweaters and a whole lot more. Plus it's fun!
How Much Does it Cost?
The basic tools of knitting are: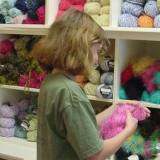 Shopping for yarn is fun!


The needles: For your first knitting needles, get straight ones. They come in pairs, and are usually made out of aluminum, plastic or wood.
Don't worry about the size yet. For beginners, just start with a size 8, and get needles that are 14 inches long, with a knob at one end. They won't cost much.
The yarn: Shopping for yarn is fun because there are so many different colors and types of yarn to choose from.
Yarn has a wide price and quality range. For your practice projects, buy inexpensive worsted yarn of any color.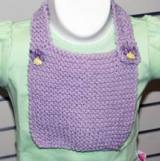 Simple first knitting projects, with video!


When you're ready to do a large project, consider buying high quality yarn, even if it costs more. You'll be happier with how your knitting looks and feels.
Make sure to buy yarn you like because, chances are, you'll be working with it for a long time.
Knitting. You may not notice it, but you probably see knitting every day. It can be your socks, sweaters, scarves and much more. Let's find out when it all started...