Put the FUN in Fundraising!
Door-to-door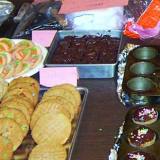 Creative fundraising tips.

Door-to-door fundraisers are one of the best when it comes to actual profit. They are good for both big and small organizations. Because the company that sponsors you often takes part of the profit, they sometimes cost absolutely no money at all.
With these fundraisers, you reap what you sow. If you put a lot of time into a door-to-door fundraiser, you are likely to make a huge profit. If you put in less time, you still will make a very respectable couple hundred dollars.
The product you choose to sell is the factor that will make-or-break this kind of fundraiser.
When choosing the product you want to sell, ask yourself two questions:
Is this something I would buy or use?
Is this something that has been sold in my area lately?
After you have chosen a product, and chosen the fundraising company you are getting it from, make sure you have enough people to carry out the fundraiser successfully.
Give the participants a minimum number of items to sell. Buy a movie or dinner certificate for the highest seller.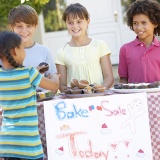 Earning money + Fun = Success!

Success!
As you can see, there are many ways to raise money. Here are some tips to make whichever type of fundraiser you choose a success:
Brainstorm original and interesting fundraising ideas.
Check with other clubs or organizations so you don't hold the same kind of fundraiser at the same time.
Ask businesses in your community to sponsor you.
Contact businesses in your area to donate items in exchange for publicity at your event.
Organize! Secure enough people to run it. Get enough supplies. Obtain permission to use an auditorium, school cafeteria, or parking lot if you need to.
Advertise! Let your community know the date, time, and location of your fundraiser. In addition, hang posters, make an announcement over the loudspeaker at school, and place an ad (usually free) in your local newspaper.
Fundraising can help your organization make thousands of dollars. It can help keep a club up and running.
I'll bet you have some creative ideas to make fundraising fun!

True or False: Franklin didn't want the motto 'E pluribus unum' to appear on the Great Seal of the United States of America. Click Ben's head for the answer.
FALSE: Franklin's committee suggested 'E pluribus unum,' which means 'out of many, one.' It refers to the thirteen colonies, united into one nation.
Tweet