Cell Phones: Get What You Need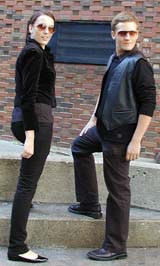 Cell Phone Police: Coming to your neighborhood soon!
In 1983 the first mobile phone that could send and receive calls, the Motorola DynaTAC 8000X, showed up in our marketplace. It cost almost $4,000, weighed more than a pound and was 13 inches long!
Today, 50% of Americans have cell phones. These phones cost about $200 and rarely weigh more than a few ounces. That's a big difference!
Current cell phones have tons of features including text messaging, cameras and graphics. Cell phone users can even send files and check their e-mail!
This technology has its pitfalls. In the last few years, those of us who use cell phones have had problems with viruses, hackers and cheating.
If you do a little research, you can avoid the pitfalls and get the cell phone with the features and technology you need.
Features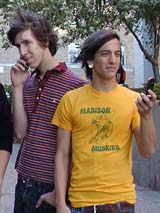 The new cell phones have lots of advantages besides checking movie times!"

You have to subscribe to a carrier to be able to use a cell phone. Read more about choosing a carrier and signing up for plans here.
Here are some basic features that are important to cell phone buyers:
Sending and receiving data. Most cell phone services support sending files and data. You can download ringtones or send a text message.
You can even subscribe to text message services that will send you updates about the news, your favorite sports team, TV show or band!
Taking pictures. Almost 27 million cell phones have cameras. The quality isn't great; usually only one to two megapixels. But it's fun to send quick snapshots to friends and family.
Keep in mind that many places such as health clubs, spas, hospitals, workplaces and schools are banning camera phones to protect privacy, avoid distractions and ward off inappropriate activities. For example, the New York City public school system, the biggest school system in the US, bans cell phone use in school.
Use Lingo2Word to translate or create text messages.

Screen graphics and ringtones. After text messaging, the hottest cell phone features are screen graphics and ringtones. You can download ringtones, wallpaper and graphics for your phone from your service provider's website.
Stars like rapper 50 Cent are recording shortened versions of their hit songs for exclusive use as ringtones. The mosquitotone, developed in Britain, spread to America by the Internet. It's designed to be a tone that many adults can't hear!
Tweet