Finding Your Dream Job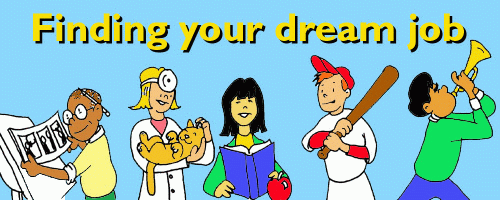 Think for a moment about things YOU do that make you happy. Not your brother, sister, friends, or parents…but YOU. Is it caring for animals, playing the piano, watching movies, competing in sports, working with the computer, or something else? It's important to know the answer if you want a career that will make you happy.
Lots of people really like their jobs, but way too many people are working unhappily. Doing something for eight or more hours a day should be rewarding and fun. While no one gets excited about going to work every day, your career should give you pleasure and reward you with much more than a paycheck.
The secret to a successful, satisfying career is to shape it around something you enjoy. For example, if you like animals, you might become a veterinarian, work in an animal hospital, or own a pet store. If music is your thing, consider working in a radio station, a music store, or a theater where bands play. If you're talented, you may be able to perform. If not, there are many jobs associated with touring musical groups that might interest you.
Look for these books at your local library to help you find a dream career.
While you're not ready to choose a career yet, there are some steps that could get you started in the right direction.
Volunteer - which is donating your time without getting paid. If you like baseball, you could help a Little League or T-ball team. Or, if you like caring for children, consider volunteering a few hours weekly at a day care center. Volunteering is a great way to learn more about a certain job or type of activity. And you'll gain some valuable experience that will make you a better candidate for a paid position later. Here's some places to look for volunteer opportunities.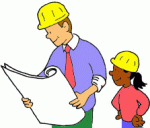 Job shadow - which is spending a day on the job with someone. As you follow the person at work, you learn about the tasks and the problems involved. This may confirm your interests. But you might also discover that the job isn't as right for you as you thought it was. If this happens, be thankful that you found out before you start schooling and/or working in that field.
Self-assessment techniques - which are used to identify personal strengths. Different individuals have different strong points, which is a good thing. If everyone could sing, who'd be in the audience? What one person likes to do, others struggle with. You'll probably discover that the things you do well--your strengths-- usually give you good feelings. Jobs that use your skills and abilities will generally make you happier.

Aptitude tests can help determine your skills. Most school counseling offices have fun tests that you can take to find out what your interests are. Compare the test results with the skills needed for certain jobs. You might find that you're well suited to be a teacher, or an accountant, or a police officer. And, if so, there are at least 20 other jobs in each category that also may interest you.

Read - which can increase your understanding of the tremendous number of career opportunities that await you. Look for these books at your local library to help you find a dream career. Explore credit union career possibilities by reading, "Careers in Credit Unions."
Talk - which can help you learn more about your dream career. Do you hate being asked, "What do you want to be when you grow up?" Well, use it to your advantage. Talk about the things you like to do, what makes you happy, and ask for career suggestions. You may get some good advice, and maybe, just maybe, people will stop asking that question!
Prepare - which can help you shape your future. Here are some things you can do:
Do well in school.
Make a list of what makes you happy.
Think about whether you like working on a team or alone.
Join clubs and visit work places to explore what you do and don't like to do.
Keep your mind open: People are always inventing new careers.
Remember that planning puts you in control of your destiny. Who knows? You may even create your own dream job.


True or False: Andrew Jackson was referred to as a 'Jackass' during his 1828 election campaign. Click Andrew's head for the answer.
TRUE: In fact Jackson was quite fond of the nickname and used it as his symbol for awhile. It later became the symbol of the Democratic Party.
Tweet