Rookie Recipes--With Fruit!
Tired of the same old snacks?
Maybe its time you taught Mom and Dad some new tricks.
Rookie Recipes are simple steps to making creative and yummy treats. Here are six (all with fruit) that you can make and enjoy.
For each recipe, we put our kid critics to the test. Find out what they think about making (and eating) these fun treats!
See what these finicky eaters say about each of the Rookie Recipes in this story.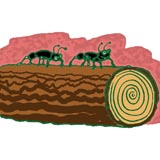 Click the log-walking ants to get the recipe!

Ants on a Log
This recipe is easy because you don't have to cook anything, and the ingredients are probably already in your house.
Click on the log-walking ants on the right and find out how to make it!
The critics say:
Troy: "I don't like plain celery, but this is good!"
Anna: "This was fun to make. The ants are yummy."
Ladybugs

Click the scolding ladybugs to get the recipe!

Peanut butter and raisins always taste good together! Here's another recipe that requires no cooking.
Click on the scolding ladybugs on the left to find another easy recipe that uses ingredients you probably have around the house. Click here to see Troy and Anna's Ladybug.
The critics say:
Troy: "That's a big ladybug!"
Anna: "This ladybug's spots taste like those ants!"
Keep reading to find out how to make Kids' Dip and Toasty Apples...
Tweet