Tsunami
10:00 am: breakdown!
The scoop: My journal


The communication system in Chennai failed.
Suddenly there was no signal on any of our cell phones. I couldn't call my friends and they couldn't call me. There was no news about the tsunami on any of the television or radio news channels.
I was becoming more upset by the moment. I couldn't even study for the big test tomorrow, so I just sat there for the next hour, worrying and waiting for my parents to call me.
11:00 am: whew!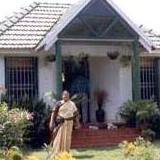 My mother in front of the family's beach house


My mother came to pick me up. I was never so glad to see her! We went with my aunt, father and my cousin to see if our beach house was okay.
I heaved a sigh of relief when I saw that our beach house was absolutely intact. Water had just entered the house a little bit, but hadn't damaged anything.
I was also happy for my caretaker and his family who live there, especially since their latest baby is only a month old.
11:30 am: reality hits
Our caretaker left to search for his missing father. We went to check on my grand uncle's beach house.
The waves had entered the house in full force and had broken down the walls. We went inside to take a look.
It was ruined.
There was nothing we could do but go home...
Tweet