Make a Career in Comics
Be your own company!
What about royalties?
You can do it cheaply at a copy place. It doesn't have to be in color. In fact, some of the greatest comics are in black and white.
Joe Casey, the popular writer of X-Men, Wildcats, and The Intimates broke in this way: "In the mid-90's, I was doing some black & white, no-money comics on my own," he says.
Casey adds, "at the same time, I was friends with pro writers like Steve Seagle, Brian Holguin and James Robinson, all who I met after moving to Los Angeles."
James Robinson actually got Casey in at Marvel for his first paying work.
Break out!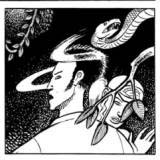 Want to see a larger image of The Creature?
Manga, or Japanese-style comics such as
Rurouni Kenshin
Fruits Basket
Dot Hack
Yu-Gi-Oh
Love Hina
differ from the super-hero comics.
Manga's the fastest growing segment of the comic industry. In fact, it is the only growing segment of the comic industry!
Manga is a style with simple drawings of big-eyed characters. Unlike super-hero comics:
The emphasis is on romance and relationships;
At least half all manga readers are girls.
The top manga publishers in the US are Tokyopop and Viz.
Go for it!
Follow the latest comic news at Newsarama and icv2!
Now you've seen some of the possibilities for a career in comics, are you geared up?
Get experience! Create a comic strip for your school newspaper, or a local shopper.
You don't have to get paid for it. Putting your work before the public provides you with valuable feedback, and is its own reward.
Learn more about author Mike Baron
Tweet