How to Get the Grade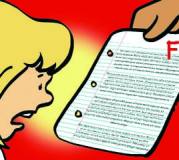 Need help writing a book report or with your math skills?


You know it's coming. As the teacher hands back yesterday's homework, signs of pain and joy flutter across your classmates' faces.
The teacher comes to your desk and hands you the paper upside down. You slowly turn it over only to see a big, ugly "F" scrawled in red ink, glaring at you.
This is the second time you've done this assignment and you don't understand why you just can't get it right. It seems like it's never good enough!
Keep at it


Doing well in school gives your future power!


Homework is a small part of your life—but it's certainly a big deal. It can help you understand the material you're learning right now. It can also affect the rest of your life!
That's because doing well in school now gives you future power. Power to spend your time doing things you like to do, and earning enough money to do it, later in life.
So, if you have difficulties in a subject, before you even get your first homework assignment, ask your teacher for help.
Your teacher will help you understand a difficult topic in a way that is easy for you.
Here are some tips to help you with your homework...