Your Snack Could Kill Me
Just say "no thanks"
When someone asks if I want a peanut butter cookie I usually say, "No thanks," but sometimes I answer in different ways. Sometimes I say, "I can't," or "Thanks, but I am allergic to peanuts."
The one thing I always remember to say is that I can't have food in a polite way.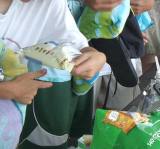 Party time!

Go Twins!
When I go to a Minnesota Twins baseball game, there are a lot of foods that can give me an allergy attack:
Peanuts
Sunflower seeds
Stuff that has touched peanuts
Many times there are people right next to me eating peanuts or candies with peanuts. I also cannot have most cotton candy and snow cones because of the possible contact with peanut products.
Sometimes I bring small pouches of candy like Skittles and Starburst that I can have. Baseball games are one of my most at-risk areas to have an allergy attack because things I can't have are all around.
Visiting friends
Why are baseball games such a risk for Cody?
The Minnesota Twins could lose
The risk of getting hit by a fly ball
The crowd could turn into a riot
The snack foods convey peanuts
Most of the time when I go to a friend's house, I eat. Sometimes it is just a snack, but sometimes it is a whole meal or two. It's not that easy:
Some of my friends' parents don't know about my allergy to peanuts.
Sometimes don't know who is aware of my allergy or not.
When there is something that I can't have, I just won't have anything. I will usually get something else in place of the thing that I can't have.
When I don't get anything else I feel left out.
Comparisons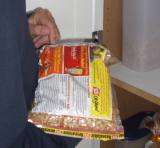 Checking the ingredients...
Compared with some allergies, a peanut allergy might be horrible. But some people might want to switch places with me and the allergy they have.
I wouldn't want to be lactose-intolerant instead of being allergic to peanuts because there are more foods you can eat when you have a peanut allergy. Some of them are milk, cheese, and yogurt.
Some people might rather be allergic to peanuts. It's just a matter of opinion.

True or False: The first ever assassination attempt made against a United States President was intended for Andrew Jackson. Click Andrew's head for the answer.
TRUE: Richard Lawrence was mentally ill. He tried to shoot Jackson with two pistols from point-blank range. Both misfired. Jackson then beat Lawrence with his cane.
Tweet