Students Visit This Credit Union For Lunch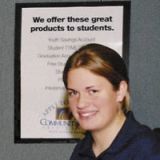 Our branch offers basic credit union services.

This branch offers basic services
At the student credit union, we can open new accounts, accept deposits and withdrawals. We also cash checks, sell savings bonds, and do almost everything employees do at the main branch.
The things students and staff do most often are deposit money, withdraw money, and cash checks.
Being a teller is fun and educational
Want to know what I do everyday?

After signing in, I buy money from the vault for my cash drawer, balancing it against our records. At the end of the period I have to balance it again to sell it back to the vault. This means I have to make sure I have the cash I'm supposed to have after all transactions.
To maintain security, I have to put deposited checks on hold. This means not allowing members to use the money on the check until CFCU is sure that it has arrived in the members' accounts. I check for proper identification, and keep all member information confidential.
I've learned that you need to be careful with high school students. Many of them are always trying to pull something funny, like signing fake or famous names instead of their own.
A full-time CFCU employee supervises our branch. She works at another branch in the morning. Then she opens, supervises, and closes our school branch, before returning to the main office.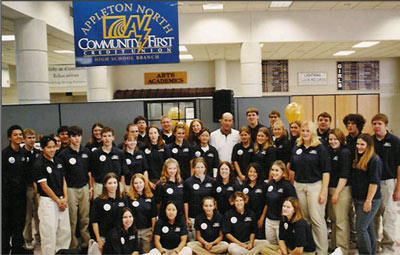 The student staff at Community First Credit Union
at Appleton North High School
Student tellers have a weekly schedule. We record out time to make sure that we're covering our shifts. If a student teller is sick, the full-time employee tries to find another marketing student to fill in. Otherwise she has to handle the member transactions herself.
Credit union experience opens doors
From working at the student credit union, I've learned a lot about how financial institutions work. This will be valuable in my future, when I choose a career. And it's valuable right now for the discipline of having a job.
Working at the student credit union branch has led to an internship. I'm now a part-time teller at one of the main branches of Community First Credit Union. My school allows me to schedule my classes in the morning and report to work by 1:00. This internship earns me one credit on my high school transcripts.
Overall, working at the Community First Credit Union branch has been a wonderful experience. I'd recommend the experience to anyone who wants to pick up personal finance and employment skills while still in high school.

True or False: Andrew Jackson was a strict vegetarian. Click Andrew's head for the answer.
FALSE: Jackson loved to eat meat. His favorite foods were wild turkey, partridge, venison, cheese, blackberries, and milk.
Tweet