Teenage Pizza Challenge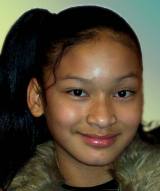 "Make the cheese thin and stringy, but not like rubber!"—Thi
There's excitement in the air! Or is it garlic?
The rich aroma of Mediterranean cuisine fills the halls of the youth center. Everyone's busy with youth center activities:
Using computers;
Setting up for tonight's open-mic event: rap poetry;
Planning activities for the city-wide Girl Neighborhood Power group;
Taste-testing pepperoni pizzas.
Taste-testing pizza? It's the Googolplex Teenage Pizza Challenge!
The challenge: Find the ULTIMATE pizza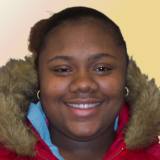 "I like the crust thick and buttery; very thick!"—Diniqua
Six pizza testers are prepared to rate six pepperoni pizzas.
Just pepperoni? The testers all agree that pepperoni is the best topping to pick that will make the challenge consistent.
The choices for this party: three frozen varieties, a pizza kit in a box, a take-and-bake pizza from a national chain, and a home-made pizza.
First they cook them; then they eat.
Then they rate the pizzas.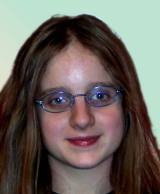 "I like stuffed-crust pizza with lots of cheese!"—Cynthia
The rating system
How do you rate pizza? For this challenge, the testers rate each pizza according to:
Cost
Convenience
Looks
Flavor!
First you cook them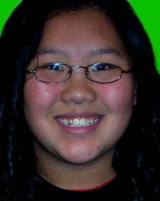 "My favorite toppings are ham and pineapple!"—LaLee
Chef Jim, the Googolplex resident chief pizza maker, turns on the oven the minute he arrives at the youth center. That way the oven has enough time to reach the right temperature.
Then he carefully plans the preparation for each pizza so they'll be finished at the same time.
While the oven warms, Chef Jim follows the directions on the box to make the crust for the first pizza.
The first pizza is a boxed kit from Chef Boyardee.
Pizza #1: Chef Boyardee pepperoni pizza kit.
Cost: $3.69, + 0.50 for the extra cheese = $4.19 for a 12" pizza;
Nutrition: 360 calories/serving;
Convenience: The kit is convenient, but it takes a little time to make the pizza!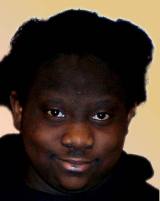 "I like all kinds of pizza, especially with pepperoni and sausage!"—Fannie
The next three pizzas are all frozen.
Pizza #2, Kraft Jack's Original pepperoni frozen pizza.
Cost: $2.59 for a 12" pizza;
Nutrition: 390 calories/serving.
Pizza #3, Red Baron Classic pepperoni frozen pizza.
Cost: $2.59 for a 12" pizza;
Nutrition: 340 calories/serving.
Pizza #4, DiGiorno Thin Crispy Crust pepperoni frozen pizza.
Cost: $4.99 for a 12" pizza;
Nutrition: 310 calories/serving.
Time for a joke!
All three frozen pizzas are very convenient. It doesn't take long to take a frozen pizza out of its box and tear through the shrink-wrap plastic!
Pizza #5, Papa Murphy's Take-and-Bake pepperoni pizza.
Papa Murphy's is a pizza store that prepares the pizza for you, but doesn't cook it. You do!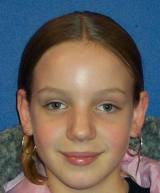 "I like my sauce juicy red with lots of seasonings!"—Carissa
Cost: $8.99 for a 12" pizza;
Nutrition: Papa Murphy's doesn't give nutritional information for this pizza. We estimate 390 calories/serving;
Convenience: This pizza requires the same amount of work as a frozen pizza—you take it out if the box and unwrap it!
Pizza #6: Chef Jim's homemade pepperoni pizza.
Chef Jim loves to make pizza. His is the last, and only home-made pizza in the contest.
Cost: $2.45 for a 12" pizza;
Nutrition: 328 calories/serving;
Convenience: This pizza is the least convenient.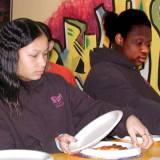 Thi (left): "Who made the first pizza?"
Chef Jim says, "I started making pizzas as a kid when I wanted a snack while watching late-night horror movies."
He knows from experience that making dough and letting it rise takes more time than we have. For the Teenage Pizza Challenge he makes the dough at home ahead of time and brings it in a bowl.
At the youth center, Chef Jim tosses the dough in the air. This stretches it into a circular shape.
The testers can hardly wait...
aj1379
Tweet