Write This Way for a Win
$100, a fancy dinner in my honor, drinks such as my favorite sparkling grape juice, karaoke, meeting military officers and government officials...
This was my experience winning my first writing contest and here's how it happened.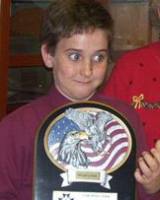 Here is a snippet of my winning essay.

It took seven tries
"Dean residence, this is Phillip" I answered, picking up the phone.
"Hi Phillip, this is the VFW, and I have the pleasure of telling you that you won first place in the
Patriot's Pen essay competition!
"
Excitement rushed through me; I had won! My paper was an essay about "Why I Am an American Patriot." It was the seventh competition where I placed in the top three but my first time winning!
So how do you find a writing contest, and what types of contests are possible? Here are some tips on where to look, the different kinds of contests, and ways to make your writing skills better.
Where to look
Looking for writing competitions is not nearly as difficult as it might seem. Start local. Many local competitions you enter are quite small, but if you win, you are automatically entered in the next contest.
Local contests can be found in all types of places, for example, in:
As you click on each of the links above, you'll see that searching for contests is a breeze!
Types of writing contests
After you have found a profitable source of competitive opportunities you need to choose what style of competition you want to enter.
The easiest competition type is one that allows you to write in the style you prefer, which means that you can write an essay, poetry, a story, or compose other creative writing.
An essay is a paper designed to inform, so the judges will be looking for facts and how you present them. Try not to state your opinion unless asked.
I suggest one of these websites:
VFW Voice of Democracy essay contest
PrizeMagic writing competition (not just essays)
PoeticPower essay contest (it also has poetry)
How to be a winner
After you find your competition and your style (one that fits you), what helpful tools can make you a winner?
I have some advice to share with you from two other winners...
Tweet
Houston Texas Fire Fighters Federal Credit Union
What makes credit unions so great? Members like you.

Every dollar you invest in your credit union earns you money while other members borrow it.

When you're ready for a loan, other members' savings will be there to help you out at the lowest possible cost.