Make the Most of Your Internship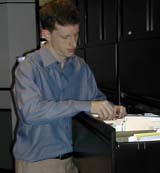 "Treat your internship like a real job."
—Mark

Since internships are usually flexible, you're in charge of making your own experience worthwhile.
Interns often get stuck with low-level "grunt-work" because it takes time to learn the ropes. This is something you can change by taking initiative:
Talking casually to people in your office area. Don't be afraid that you're bothering them—they know you're there to learn about the business and most of them will be happy to talk to you.
Talking to lots of different people in the company. You can learn about many aspects of your field, and you may find you are interested in something you didn't even know about before.
By talking to people you can find out how they got where they are and get some great advice about what they've learned.
Be an Active Intern
What do supervisors look for in an intern?

Make the most of your experience by asking for tasks and asking to be involved in projects and meetings that interest you.
While there is a certain amount of photocopying and faxing involved in most internships, there is room for most interns to explore their interests. If you just sit around waiting for someone to give you something to do, you'll get the worst tasks and you'll waste your time. Being proactive shows your employer you are truly interested and willing to work.
You can learn a lot more if you're in the loop. Ask the people you work with to keep you up-to-date on
what's going on in the company
in general and with projects that you're involved in.
Finally, treat your internship like a real job. Come in on time, be responsible and enthusiastic, take initiative, and do your work to the best of your ability. This is how you will gain respect from the people you work with and how you can avoid feeling like "just an intern."
Keep reading to find out what Rachel, Mark, and Amanda learned from their internships...
Tweet
Houston Texas Fire Fighters Federal Credit Union
What makes credit unions so great? Members like you.

Every dollar you invest in your credit union earns you money while other members borrow it.

When you're ready for a loan, other members' savings will be there to help you out at the lowest possible cost.