Finding His Way as a Student in France
French students can strike? What's that all about?

Many high school students in Paris decided not go to school on certain days in December, 2008. Instead, they were out on the streets together with their teachers to demonstrate against the French government.
William's choice
Government officials had announced plans that would affect 11,200 high school teachers' jobs. They said the jobs would be "suppressed," and most people assumed that meant eliminated.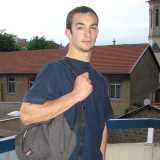 Nineteen-year-old French high school student William Durand.

The students believe that spending less on education would mean:
• More students per teacher in the classroom


• Fewer hours teachers would be available


• Fewer opportunities for subjects such as art, music, and theater
Imagine that your school system is going to cut back on the number of teachers. Your education, and possibly your future job prospects, will suffer . What would you do?
William Durand, a 19-year-old high school student lives in Lyon, France. Striking students blockaded his school on several occasions. Rather than join them, William chose not to get involved.
"I backed the students and felt they were right to protest," he said. "I feel, though, that the unions could do more to keep us informed. A lot of kids who went on strike did not know what was involved and just wanted a day off from school." Instead, William decided to concentrate on his studies. That's because he was repeating a year because of poor grades.
"I wasn't serious, and played the idiot in class."

He admitted, "The first time I failed was at collège, in troisième (ninth grade). I wasn't serious, and played the idiot in class. I suppose I did some of that last year as well.
"I could have moved up last year but the school and my mum persuaded me to stay behind as it was important to have good grades for university. I'm sure now that they're right," he added.
Collège at age eleven
The French school system is very different from the U.S. Secondary school in France is broken into two parts—collège (middle school) and lycée (high school).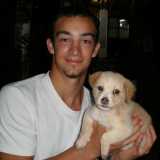 William and his alter ego, Willy.

The last year of high school is very important as most students aim to pass the baccalauréat (BAC) at the end of their three years at high school. This is a national exam that allows students to get better jobs or to go on to university for further studies.
William is studying mathematics, philosophy, English, Italian, economics, history, and geography. He will be taking his BAC next year in all seven subjects. It's very important to pass with good grades.
William wants to be a lawyer. "It's a job that I like; I like a good argument. It's well paid. You can earn €3,000 (euros; $4,203) per month even when you first qualify. I'll decide later which branch I should specialize in, but I like the idea of doing international law; I don't mind the five years of studies."
"I like a good argument."

To be accepted at university to study law, he not only must have good grades, but he must pass his BAC. "William needs to pass with merit—at least 14/20," his mother explained.
"The universities he applies to will also want to see records of his last two years at school so he must have the best possible grades at high school," she said.
Although William's school is a private one, it is bound by a contract with the French government and must follow the same educational guidelines as the other state-run public schools. Like most French high school students, William is bilingual, with a good command of English.
Even if you don't speak French, William's life won't seem all that strange...
Tweet
Houston Texas Fire Fighters Federal Credit Union
What makes credit unions so great? Members like you.

Every dollar you invest in your credit union earns you money while other members borrow it.

When you're ready for a loan, other members' savings will be there to help you out at the lowest possible cost.