Dollars for Sale: Best Offer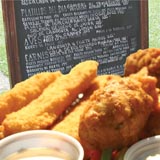 A strong US dollar means you'll save money on conch fritters in Cozumel.


A strong US dollar
When the US dollar is strong, its value is high compared with other currencies. The result is that the price of items made in foreign countries (foreign goods) falls in America.
A strong dollar means that Sara can save money on a meal eaten in Cozumel, or on a really cool belt made in India that she finds at the mall.
At the same time, items made in America for sale in other countries will become more expensive there. Companies that export US products will sell less and might have to lay off workers.
A weak US dollar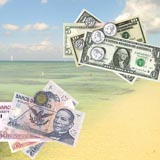 All you need is cash.

A weak dollar—when it takes more cents to buy a peso—means that Aaron will pay more for his meal in Cozumel, or on an imported stereo system for his car.
When the dollar is weak, exporters and their employees will benefit because foreign consumers will be able to buy more of what they sell.
International demand determines the value of one currency against another. When people around the world have and wish to buy more Mexican pesos, the value of Mexican currency strengthens. On the other hand, if those same people begin selling the Mexican peso, its value falls.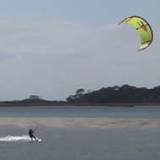 'Kite surfing can get you to go where you need to go...'
Tim Malins, manager of High Tide Surf Shop.



Sara and Aaron's traveling money tips
"Check online at reliable sites or with your credit union to cash in your US dollars at the best rate of exchange for you."—Sara

"If you need more money while you are abroad, you will find the best exchange rates at ATM machines and credit unions or banks. Avoid hotels and other high touristy areas where the rates won't be as good."—Aaron

"When you leave the country you can exchange your money abroad or back home. If you are lucky, the price of your money will have gone up."—Sara

"Make sure you keep a tight hold on all of your money, passport, and other important belongings, no matter where you many find yourself abroad."—Aaron

True or False: Franklin was born in poverty and through his entire life never knew wealth. Click Ben's head for the answer.

FALSE: Franklin said, "Having emerged from the poverty and obscurity in which I was born and bred, into a state of affluence."
Tweet
Houston Texas Fire Fighters Federal Credit Union
What makes credit unions so great? Members like you.

Every dollar you invest in your credit union earns you money while other members borrow it.

When you're ready for a loan, other members' savings will be there to help you out at the lowest possible cost.