Shopping the Brands


According to its definition, is fashion cool?

For some reason we teenagers always seem drawn to name-brand clothing, despite the high prices. Why is this?
Because they're "snob" goods. That's what economists call items we purchase because of their price and status.
An example of snob goods—outside of the clothing world—would be sports cars. A Mercedes may not run better than a Toyota, but because of its reputation as a classy car and high price, it becomes a snob good.
Driving a Mercedes might make you feel important and classy, and others may feel some jealousy when they see you drive by (and some may feel disdain). Brand-name clothes are a less-extreme case.
Why we want brand names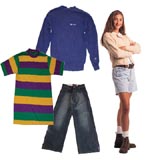 You think you can count on being fashionable if you buy name-brand clothing.

There is no denying that we feel cool in brand-name clothes like Gap, Buckle, and American Eagle. When I was in middle school, I tried to buy as much Abercrombie & Fitch as I could afford.
For casual footwear, I had to have either Converse or Vans. I had this idea that Adidas tennis shoes were nowhere near the quality, or coolness, of Vans or Converse.
For some people, buying brand-name clothes means that they fit better, the clothes themselves are better quality, or they just seem to have a better reputation among your friends.
People also buy name-brand clothing because of its trendiness. Companies like Gap and Forever 21 somehow always seem to have the latest fashions, no matter what.
These kinds of companies appear to be the trendsetters for the clothing industry. You think you can count on being fashionable if you buy brand-name clothes...
Tweet
Houston Texas Fire Fighters Federal Credit Union
What makes credit unions so great? Members like you.

Every dollar you invest in your credit union earns you money while other members borrow it.

When you're ready for a loan, other members' savings will be there to help you out at the lowest possible cost.