Rock the Dek


Play one of the first computer games, street hockey, online!

Playing sports:
Keeps you in good physical shape;
Relieves stress;
Keep you off the streets and on the fields.
Even with all of those benefits, nothing comes without costs. All sports have them, and one of the most expensive sports to play is ice hockey.
I've discovered a version of hockey that is less expensive. Dek hockey, better known as street hockey, is becoming a growing trend in communities around the nation.
You don't have to know how to skate to play dek hockey, and the equipment is cheaper. This means that the range of skill of players is much greater in dek hockey than it is in ice hockey.
Where's the dek?
Dek hockey originated around the 1970s. The world's largest hockey puck distribution company of the time, Viceroy Rubber, came out with an alternative to an ice puck for non-ice play hockey—an orange plastic ball.
This special ball is still used today. Around the same time plastic companies came out with the dek, which refers to the modular sports flooring used as the ground surface for the sport.
What's it cost?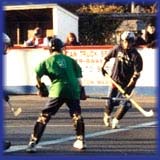 Dek hockey may be less expensive than ice hockey, but it is still rather pricey.
You won't need skates, but dek hockey requires a helmet, elbow pads, knee pads, and gloves that serve as wrist guards. Depending on what position you play you could spend anywhere up to $800 on equipment.
That's if you want top of the line gear. If you are willing to use equipment that is a little less sturdy and won't last as long, then you won't have to pay nearly as much.
Here's the breakdown:
Goalies: Goalies are some of the most important players on the rink, and their gear is also the most expensive:
The most expensive goalie equipment will run up to $800 because of artwork on the helmets that can cost at lot;
A fully equipped goalie in a moderate-to-expensive brand will spend between $440 and $670, and the gear will last a long time;
Cheaper equipment that serves just as well, with a shorter life, costs only $225.
Rink players: If you want to be a player that is out on the rink you will be paying significantly less than the guys between the pipes. Between the pipes is hockey lingo for the goalie position.
The players out on the rink have two major brands to choose from, along with some other smaller ones:
For top of the line equipment, you would spend about $165.
If you were to equip yourself with a moderately priced brand, you would spend about $115;
If you wanted to use nothing but the cheapest you would spend about $100.
| | | | |
| --- | --- | --- | --- |
| | Cheap | Moderate | Top-of-the-line |
| Non-goalie | $100 | $115 | $165 |
| Goalie | $225 | $440-670 | $800 |
A few more fees
Besides equipment costs, there are also league and rink fees that usually go along with playing dek hockey.
The leagues are usually non-profit, but they do need money to pay the referees, so there can be a $20-$40 fee depending on the size of the league. That's a per-player, per-season fee. The owner of the rink generally adds a small per-game fee for facility upkeep.
I don't play on the most well kept rink around because I don't have to pay for it. Trust me—it would be worth the extra cost.
Less "ouch" to the buck
You can avoid getting hurt.

Like many sports, there are bound to be injuries. Fortunately, in dek hockey there are fewer injuries than in ice hockey because checking (intentional body contact) is illegal, but there are still a few injuries through the season.
Proper equipment is expensive, but without protection, there would be a lot more injuries; no one would want to play.
In the four seasons I've played, I've only been hurt once. It was because of an illegal action that resulted in a disabling bruise on my hip. I was only out for a few days, but there was still a medical bill to pay.
Give it a try!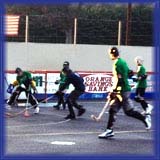 For people who love to watch hockey and wish they could play—but can't skate or can't afford the equipment—dek hockey is the way to go. I got involved after I went to several games that my friends played in, and I'm hooked.
If you are new to the sport and you want to get into a league, look in the local newspapers. The hockey associations near you place ads giving information on skills days.
A skills day is simply a day that you go and get rated on your ability to pass, shoot, dribble, and run. If the league doesn't advertise in the papers, the easiest way to find out about it is to go into the front office of the rink and get the information.
It's fun!
If you want to play dek hockey, come in expecting to have fun playing 12-16 regular season games. Sure, it's good to have skill at what you're doing, but the sole purpose of dek hockey is to have fun.
Most leagues take all players with all skill levels at all ages. For those who excel at the sport, there are opportunities with national and regional all-star teams at all age levels.
Know the rules!

One thing you have to realize about these teams: once you've stepped out of the local house-league and on to the regional scale, the fun may be lost unless you win.
I find that a local league is relaxed and there is always laughter among the players and fans. So to start your dek hockey experience—find a local rink and try it out.
You won't be disappointed.
by Nick Wheeler, former Googolplex youth editorial board member

True or False: Franklin signed a petition urging the abolition of slavery. Click Ben's head for the answer.
TRUE: On Feb. 12, 1790, as president of the Pennsylvania Abolition Society, he signed a petition urging the abolition of slavery and the suppression of the slave trade. He died two months later.
Tweet
Houston Texas Fire Fighters Federal Credit Union
What makes credit unions so great? Members like you.

Every dollar you invest in your credit union earns you money while other members borrow it.

When you're ready for a loan, other members' savings will be there to help you out at the lowest possible cost.