Put the FUN in Fundraising!
What's the first thing that comes to mind when you think of the word fundraiser?
Long hours of walking house to house in the cold?
Selling scout cookies or soccer candy bars?
Here's the good news: Fundraisers can be fun, creative, and successful! They are a great extracurricular activity to raise money for your club or organization!
Match your event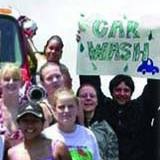 Who could drive by an invitation like this?!

Tailor your fundraiser around the club, sport, or event you are fundraising for. This kind of fundraiser is usually innovative, which attracts people.
An example of a tailored fundraiser would be holding a 3-mile run/walk, or a ball dribble to provide new uniforms for the track or soccer team.
It's perfect for bigger clubs and organizations that can afford this more expensive way of gathering money. This kind of fundraiser can make you a ton of cool cash!
Cut costs by having local businesses and companies sponsor you. For example, the post prom committee at my school did a car wash, and wanted to do another, creative fundraiser.
We held a prom fashion show in the high school auditorium. A bridal shop sponsored the show and provided dresses and tuxes for students to model.
With a lot of work and advertising, the fashion show went off without a problem. We raised over $1,000!
Two reliables
There are two tried-and-true ways to raise money:
Host a bake sale;
Hold a car wash.
These great fundraisers take little planning and cost almost no money to create.
Bake sales and car washes probably will not make your organization as much money as other types of fundraisers. But they are perfect for raising a couple hundred dollars for a last-minute expense.
They're also a great way for smaller clubs and organizations to make money. Because they cost so little, almost every club can afford to have one, and can make a profit from it.
First, bake sales...
Tweet
Houston Texas Fire Fighters Federal Credit Union
What makes credit unions so great? Members like you.

Every dollar you invest in your credit union earns you money while other members borrow it.

When you're ready for a loan, other members' savings will be there to help you out at the lowest possible cost.