Friendship and Challenge: Soccer in South Africa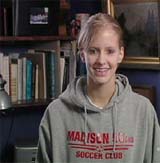 The best part about traveling is learning the culture of the people we visit—especially the language

Most soccer teams play in their home town against inter- and outer-city rivals.
Some play against rivals from different states.
This year my team got to experience the game of soccer in what seemed like a different world!
We're going to South Africa
My soccer team has been working for years to go to South Africa. We want to challenge their high school teams, teach children how to play, and maybe help improve life in some of the South African townships.
And take in some sight-seeing and safaris of course!
We start fundraising—holding carwashes and working at the concession stands during high school wrestling and basketball games. We even worked the college hockey and basketball concession stands!
After more than two years of car washes and concession stands, it's finally time for us to go.
We're there!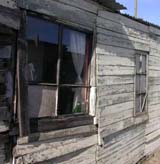 We drive through towns made up of shacks and dirt paths.

After a six-hour plane ride to London, eleven more hours to Johannesburg, plus two hours to Cape Town—we finally arrive. "We're in South Africa!" one of my teammates, McKenzie, screams to the whole plane. We all feel the same enthusiasm!
We get our luggage and board the bus to the hotel. On the way, most of the team is quiet, looking out the windows, trying to take in the different environment.
I can't help but gasp "wow." It's hard to realize that this is all real.
We drive through towns made up of shacks and dirt paths. The shacks are small, usually one or two rooms. They're all crowded together and almost look as if they're little cardboard houses.
I watch a group of boys playing a pick-up soccer game on a basketball court in the rain, just goofing around and showing off. They don't even seem to notice or care what kind of surface they're playing on, or even that it's cold and raining.
We drive on to enter Cape Town, a city with big buildings and five-star hotels. Our hotel's called The Waterfront. We spend the rest of the day getting comfortable and situated. The next day or two we go sight-seeing and tour the city.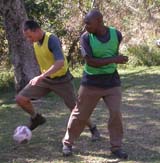 During a sightseeing tour, we play a scrimmage against the tour guides.

Time to practice
We're finally getting used to the time difference when we head for our first soccer match in this "different world."
It's against Fairmont High School, in Cape Town. It's a typical South African high school, with a mixed race of students.
We rise before the sun and run to the deserted fields to practice. None of us have ever experienced a practice like this one! We're playing in South Africa!
We scrimmage while the sun ascends over the clouds and a mountain-like hill, finally providing us with light, not to mention a beautiful sunrise to play under.
Our coach pulls out a box of what looks like candy, threatening, "Anyone who gives up possession of the ball will have to eat a fried worm." That discipline gets shot down when a few players willingly pop them into their mouths.
The practice ends quickly—it's game time. We jump aboard our bus and head over to Fairmont High School. Guides lead us to a locker room where we all change into our uniforms and get ready.
The first game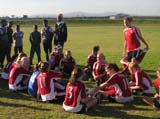 Parent paparazzi.

The sun's gleaming on the pool outside, and on the rich green grass being trampled by many different teams. There are a number of fields and one is ours—the far one.
Before the game we go through our routine warm-ups. The other team members watch for a little bit and then start theirs. When it's time, we shake hands with the other team and start the forty-minute game.
We quickly gain possession of the ball, keeping it for most of the game. The other team lacks speed, endurance and competitive skills. A few of their team mates even lay down on the ground screaming or laughing after our 3rd or 4th goal!
It's a friendly game, and once it's over everyone gets together for pictures in front of the parent paparazzi.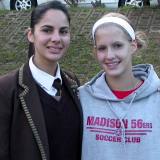 Taryn and me saying our final goodbyes at Fairmont High School.

Into the homes
The team has invited us to stay with the players, so we split up and go to different houses. I go with the captain of the team, Taryn Vos, age 17. Her immediate family consists of Jason, her younger brother, age 16, and her mom and dad.
They ask questions about what we've been doing and what we're going to do, and Taryn repeatedly comments on our soccer skills, saying things like, "Oh, we were so impressed! When there was space—like you actually ran to it!" My team mates say they hear almost identical comments at their houses!
The Vos family has a very nice house, with a lovely view of Cape Town. They show me around the house and ask many questions about what it's like to live in the United States.
The most common question that all of us are asked is if our high school is similar to that in the movie "Mean Girls." Until we came, that was the most information they had of our schools.
Their school and life is actually very similar to ours, aside from the fact that they can't drive until they're 18. We talk for awhile, and I find out that her parents won't let her date, even though she's 17. After more random talk, we eventually go to bed.
The next morning we go to Taryn's school, where our team is getting picked up.
More games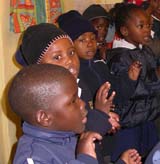 The students at St. Michael's Primary School sing to us.

Later that day, we visit the Cape Townships, and St. Michael's Primary School. We go into classrooms and hear children sing to us.
After we visit every classroom, the kids are allowed to run around with us outside. We play soccer, sing, dance, and watch the ecstatic kids hop around the playground.
It's difficult to leave, seeing how happy the children are to play with us, but we board the bus and drive off to Khayelitsha.
There, we play two games at the Mandela Stadium:
The first is against the high school's girls' team. They're more skilled then the first team we played. They're fast, and some have amazing foot skills. A crowd of other students form around the sidelines, and later, around our team during our half-time talk.
The second game's against the men; tall, skinny, fast, eighteen-year-old men. As our coach says, "This… will be the best team you play all year." We lose that game, but it's an excellent experience for all of us. Their game was exceptional, along with their skills.
We take a day off from soccer to tour the cape peninsula and then it's Friday, time for the fourth soccer game.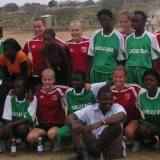 We have trouble adjusting to this rough field.

Our team has trouble adjusting to the field at first. We're used to playing on grassy, smooth fields, but we eventually got a hold of it and pull out a 3-1 win. This team's the best competition we have seen in South Africa.
They're skilled and it would have probably been even closer if they had all had shoes on. That's right—we had to work to beat barefoot opponents!
After this game, our team members huddle for a brief discussion. The decision is unanimous. We take off our cleats and shin guards and throw our gear into a pile to donate to the other team.
Goodbye Africa
The South Africa soccer games are over. We spend three more days in the country, touring Johannesburg, and then leave to go home. The trip's a success:
We've put smiles on orphaned kid's faces;
We've challenged teams from across the world and won;
We've made friends;
We've learned about a different culture and experienced a different environment.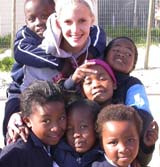 We've put smiles on orphaned kids' faces.

I've learned to appreciate what I have. When I sleep in my warm, comfortable bed I think about the kids I've met, who may not have such a bed to sleep on.
It's easy to take things for granted, but now I've experienced something less than what I have. Not everyone is as fortunate as I am. They don't have nice clothes and nice things, yet they are still happy.
They don't seem to need as much stuff as I need to keep them occupied and happy. The children seem to be happy just running around chasing each other without computers or phones to keep them busy.
Since this trip, when I see perfectly good food get thrown out, I think about the people who would love to have that last bite of chicken.
by Julia Eagleburger, age 15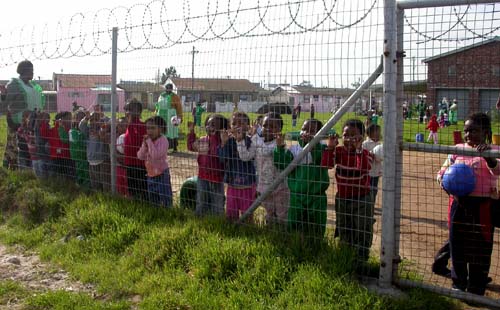 The children didn't want us to leave!

True or False: Benjamin Franklin is one of the founders of one of the country's major universities, University of Pennsylvania, which he opened in 1751. Click Ben's head for the answer.
TRUE: The school opened in 1751 and was officially named the University of Pennsylvania in 1791, a year after Franklin's death.
Tweet
Houston Texas Fire Fighters Federal Credit Union
What makes credit unions so great? Members like you.

Every dollar you invest in your credit union earns you money while other members borrow it.

When you're ready for a loan, other members' savings will be there to help you out at the lowest possible cost.