Greetings, Agent Geo.
Your mission is to locate the globe-trotting enemy spy known only as
The Steel Weasel
.
Only you have the wits, cunning, and knowledge of geography to track him to his hidden lair.
But first you need to study the dossiers of his two cohorts.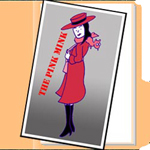 This is
The Pink Mink
. She is the Weasel's occasional girlfriend and is a bit of a troublemaker herself. She too travels the globe and should provide us with information that will lead us to our steel-blue foe.
Finding the Mink, however, is not easy.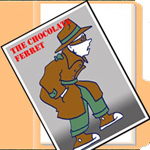 We'll need to start with her younger brother, a real half-wit known only as The
Chocolate Ferret
. Though Choco considers himself an international spy, he can't obtain a passport and limits his travels to the U.S.
The Ferret is where your mission begins. Track him down to begin the trail to the Mink. Complete the Mink Mission and you're on the way to the Steel Weasel.
Spy-Phone.
The Agency will send you text message clues regarding each spy's most recent whereabouts. Decipher these clues to guess the correct location.

Spy Manual.
This guidebook will help you by providing all of the possible answers (and then some) to the clues provided by the Agency.
Begin Mission #1 – Chock the Chocolate Ferret