From Silver to Paper
The paper money problem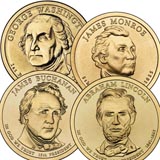 The U.S. was the first country with an official currency.
The U.S. was the first nation to adopt an official currency and everyone agreed that it would be the dollar, worth 100 cents.
The first paper one-dollar bills appeared in 1785. Oddly, foreign money, such as the Spanish dollar, continued to be legal tender in the U.S. until 1857.
During the switch from coins to paper dollars, people could exchange paper money for gold and silver coins, and vice versa. That's where the term "good as gold" comes from.
The problem with this new plan was that the U.S. colonies didn't have enough gold and silver on hand to make equal exchanges. So, no one could be exactly sure what the paper money was worth at any one time. This caused many problems.
On Monday, for example, your coins might be worth $65 in paper, but on Friday they might be only worth $22. With no formal system, and no one to monitor it, people could make up their own rules...and they did!
To help avoid all this confusion, Congress passed the "National Bank Act of 1863," which created national banks in cities throughout the U.S. The Act also helped create standards for banks and the minimum amount of money that a bank must have. People quickly accepted paper money as the standard form of currency.
The story on a $1 bill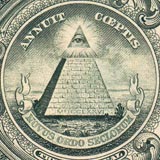 Try fun things to do with a dollar bill.
The markings found on the current one-dollar bill tell an incredible story. Look at the face and the back for pieces of its rich history.
There are more than 10 identifying marks on the front of the one-dollar bill. On the back, there are five, including the Great Seal of the U.S. Do you understand the design and symbolism of the dollar bill? To learn more, go to the National Institute of Environmental Health Sciences' website for kids.
The history of American money going from silver to paper stretches far beyond our country's history and has seen some major changes.
There are sure to be more revisions with our currency, so be sure to check in with AJ's to see what's different with your money!

True or False: Andrew Jackson was a strict vegetarian. Click Andrew's head for the answer.
FALSE: Jackson loved to eat meat. His favorite foods were wild turkey, partridge, venison, cheese, blackberries, and milk.
Tweet