Picking a Major
"If you're like me and are lost in the dark, stick to the general education classes. Eventually something will just seem right." ~Meghan
"Pick something that comes naturally to you or you are good at because just because you are interested in it might not be enough to major in it." ~Kelly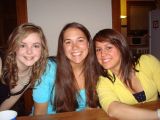 Picking a major doesn't have to be a huge pain.

"Advisors are wonderful. Some may be scary, but they are very realistic. College is hard work and they want to make sure you know what your major involves before you declare it." ~Sara
"Don't think that anything you decide your freshmen year is set in concrete." ~Stephanie
"Don't set anything in stone. Things are bound to change." ~Kelsey
"Picking a major can be really difficult. It is best to take classes you are interested in if you do not know what to major in. If you find something you like, check out the undergraduate program and maybe you'll find the right major for you." ~Austin
"Don't stress about it if you don't know what you want to do. You'll figure it out after a while and it will be something you really enjoy." ~Kristine
"Enjoy being in college, because you'll figure out what you want to do soon enough." ~Craig
Tweet
Harris County Federal Credit Union
What makes credit unions so great? Members like you.

Every dollar you invest in your credit union earns you money while other members borrow it.

When you're ready for a loan, other members' savings will be there to help you out at the lowest possible cost.