To Bat or to Act
I got a lot of support from family and friends.
Pros and Cons: Theater
Pros
:
It is easier to keep my friends from theater throughout the school year, because we produce two events every year.
You get to travel to other schools for One Act competitions.
Thinking about my future, I plan to be involved with theater throughout and after college.
My heart is more into acting. I enjoy it more.
What helped Stephanie most in making her decision?
After-school teacher meetings
Eeny, meeny, miny, moe
Peer pressure
Family support
Cons:
Rehearsals are every day of the week.
It's nerve-racking trying to learn your lines and then perform them on the stage.
I'll have to figure out how to incorporate exercise into my lifestyle to remain healthy.
There are only one or two performances vs. many softball games.
That last bullet point from the theater "pros" list gets to the crux of my decision.
I Love Theater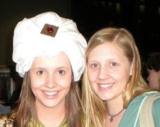 My family came out to support me
Now that I've written down everything I feel about softball and theater, guess what?
I decide to audition for the play. My friends are happy I've chosen theater. Now I can spend more time with them, because the majority of them are in the play.
My Family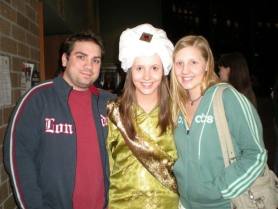 Right to left: My sister Nichole, me, and her boyfriend Thomas

My family members are supportive because they know I put a lot of thought into it.

Close

Luckily, my choice had a positive outcome. I didn't get a large part in the play, but I did have a role with a name and I'm thrilled to have been in it at all. I made a lot of new friends that I wouldn't have even known.

I'm not as close with some of my friends from softball, but we remain friends. I still support them during softball season and even still throw the ball around sometimes!

My Friends

My friends, both from softball and the play, have a higher respect for me because they know I had to go through a tough time making the decision.

Close

I've also gained experience in the world of theater just from being in one play. World of Theater

I plan on continuing in theater as long as I can, I hope through high school and college.

Even if I don't continue to be a performer in theater, I will always be involved in it; whether through helping the crew on set, doing makeup, or even just attending plays and musicals.

Close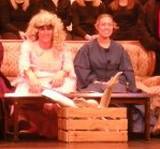 The cast of the play!
Postscript
Having to choose being two things I really love has helped me understand myself better. I recognize where I want to be in the future—involved in theater—and I'm more confident about making decisions.
I wouldn't have been able to make a good choice if my family and friends hadn't been there to help me through it. I am proud of the choice I made and am taking it one step at a time from here!

True or False: Andrew Jackson held parties at the White House and opened them to the public. Click Andrew's head for the answer.
TRUE: Jackson was known for allowing the public to attend his White House parties.
Tweet