Scouting: How a Tiger Becomes an Eagle
I'm a freshman in college, and an Eagle Scout.
Earning the Eagle Scout Award was probably the biggest achievement of my life. It was even bigger than graduating from high school! How's this possible, you ask?
Well, I watched many people slack off, not do their homework, skip class and they still graduated. I don't know any boy who slacked off and still earned his Eagle.


Hey! What about us girls!?
The highest achievement
The Eagle Scout Award is highly recognized. It's the highest achievement in Boy Scouts. I earned my Eagle Scout award in January of my senior year in high school. That means I was in scouting for 12 years.
I started in Tiger Cubs, the first level of scouting, in the first grade. Tiger Cubs is the entry level for Cub Scouts. It's when most boys join. I earned all the awards and advancements possible; so did everyone else.
After Cub Scouts comes Boy Scouts. There's a big difference between Cub Scouts and Boy Scouts!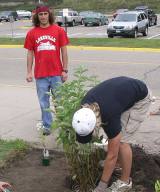 Here I am (in red), supervising Mike for my Eagle project.
Compared to the number of boys that join Cub Scouts, few boys go on to become Boy Scouts. A fifth-grader can start in Boy Scouts, and advance through the ranks until he either quits, gets his Eagle, or turns eighteen.
Earning your wings
It takes a lot to earn the Eagle award. It begins when you enter Boy Scouts.
The requirements to earn the Eagle Award (called ranks) must be completed before you turn 18.
Scouts need to meet several requirements in order to earn each rank.
As you advance through the ranks the requirements become more difficult.
Here's how they compare:
Scout
Mike and I (left) sit by a creek after a long day of hiking the Rocky Mountain trails at Philmont Scout Ranch, N.M.
The Scout through First Class ranks require skills needed to survive in the wilderness like fire starting, building things by tying sticks together called lashing and first aid.
The Star through Eagle ranks require leadership roles, hours in service projects and merit badges.
The biggest and most demanding requirement is a service project that the scout plans, organizes and leads others in doing. The time spent on the project should total over 60 hours of planning and labor.
When the scout completes all the requirements, he still has one more step..
Tweet