Holiday Shopping: Bust the Stress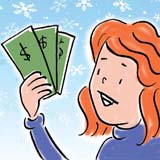 Here is a helpful tool to help you budget for shopping.
Your personal budget—how much?
Create your personal budget before you shop. This helps prevent overspending on a specific gift.
First, figure out your shopping allowance. Total the money you already have on hand. Then add the amount you'll earn from jobs, chores, allowances, gifts, and other ways you earn money.
Now that you know how much you have, you can decide how much you want to spend. I usually have a $100 limit on how much I spend on all gifts.
But even with $100, you don't want the attitude that "since I have money, I can spend it all." You want to be in control of your money, not have your money control you.
I recommend that you talk with your parents or a responsible friend about how much you can spend. They can help with ideas of how to set up, control, and maintain your budget.
Your personal budget—who and what?
Don't have a lot of money? Try a homemade gift!
After figuring out how much money you have (or will have), list the people you want to buy gifts for, gift ideas, and how much you want to spend on each person.
Include ideas for backup gifts in case the "perfect gift" is too expensive or unavailable.
Don't panic if you can't think of something to get a certain person. Just think about their likes and dislikes, their shopping styles, and what they already have. That can lead you to figure out what they might like to get.
Also listen to them when you are hanging out. They'll probably give you plenty of ideas without even knowing it!
Now you're almost ready...
Tweet