Happy New Year!
Okay, you caught it. Wait—it may not be January 1st, but it is a new school year. Why not take this opportunity to make some New School Year's Resolutions?
September: Time capsule
Want ideas for questions to ask?


Make up questions and store the answers in a time capsule that won't be opened until the end of the school year.
Include a recent photo and some other items of interest that you can do without for a while.
Ten months later—one school year—open the capsule and see how much you've changed.
October: Break a record
Pick an activity:
Shooting hoops
Playing catch with a Frisbee
Hopping on one foot
How many times in a row can you do it without missing, dropping it, or losing your balance?
Record your results at the beginning of the month, then work to break that record. Once you break the original record, you have a new one to break all over again!"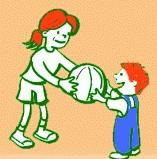 I found your ball!"


November: Be an anti-bully
This month try being an Anti-Bully. Go out of your way to help a smaller kid. Give him a helpful and friendly push on the swings. Help her retrieve a lost ball. Be nice to them.
Your act of kindness will probably be no big deal to you, but chances are that the child will remember it for the rest of his or her life.
December: Scavenger hunt
Here's your list of obscure items!


How quickly can you and your friends find 10 odd things? Set a time limit and give a prize to the person who finds the most.
Try different boundaries for how far you can search, for example, you may search only in:
Your home
Your neighborhood block
Your school
Here are the brackets for your tournament!
January: Tournament of champions
Challenge 15 friends to join you in a tournament.
We've selected some of the most challenging 5-Spot games on our site, and put them into brackets for your tournament. Winners advance through the brackets until a 5-Spot champion emerges victorious!
Now, get ready to leap into the end of the school year...