Team Up to Tackle the Stock Market
First stock purchase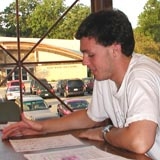 Michael focuses on financial measurements.


The students in the investment club began to study Johnson & Johnson, ticker symbol JNJ, soon after the September 11, 2001 terrorist attacks. The stock markets were going down and the economy was not doing very well.
The students focused on the types of products made by Johnson & Johnson, and looked at some financial measurements. Here are the criteria they examined in making their decision:
Johnson & Johnson's products include some very basic items like soap and shampoo, as well as medicines;
Johnson & Johnson has been in business for a long time (it was founded in 1887) and is a large company (it has more than 100,000 employees);
Johnson & Johnson does not have excessive debt and has consistently paid a dividend to its stockholders;
A NAIC Stock Checklist that the students completed shows that the company has had a good record of steadily increasing its sales and earnings.
The students decided that customers would continue to buy Johnson & Johnson's products whether the economy as a whole is doing well or not.
As Eyleen says, "Even in bad times, people need Johnson & Johnson's products."
Because it has been in business a long time and met all of the club's criteria for making an investment, the students decided to invest in Johnson & Johnson's stock.


Anita checks the facts before spending.


Building a portfolio
Another company the Youth enterprise club invested in is Bed Bath and Beyond, ticker symbol BBBY. The students studied this company starting in February 2003.
By decision-making time, the economy looked like it might be getting better. Let's look at the criteria the students examined:
The company was opening more stores;
The company had no long-term debt;
Even though the price-to-earnings ratio was a bit high, the higher earnings Bed Bath and Beyond could generate from its new stores could lead to a higher stock price;
There were eager shoppers in a local store the students visited, and the students liked the products;
Bed Bath and Beyond was founded in 1971, more than 30 years ago, had approximately 500 stores and more than 10,000 employees;
The students' Stock Checklist showed that Bed Bath and Beyond had a great record of increasing its sales and earnings.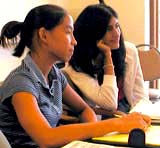 Eyleen and Anita decide on rules for spending.


The students reasoned that Bed Bath and Beyond would sell more products to consumers and post higher earnings.
Eyleen says, "We liked the company's stores and its products, and learned that it planned to open many new stores."
Not having any long-term debt was a very good sign. The students thought it should give the company financial flexibility since it will not have to make interest payments while it is opening its new stores.
Although it had a fairly high price-to-earnings ratio, the students could accept it because they liked the products and saw that others did too.
Bed Bath and Beyond met the students' criteria for investing in large companies that have been in business for a long time, and they felt confident that the company's management would continue to increase sales and earnings.
To summarize the students' reasoning in deciding to buy each of these stocks:
They thought Johnson & Johnson was a very good stock, given the kind of products the company sells and what was going on in the economy and the stock markets at that time;
They thought Bed Bath and Beyond would take advantage of an economy that seemed to be improving, although its stock price was a bit higher than they would have preferred, because they really liked its products and stores.
It's easy to start an investment club...
Tweet