Branches on Your Family Tree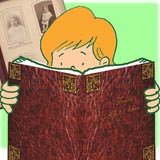 Look through old family albums.
Learn before you plant
Here are some ways to open up family members' memories as you gather information for your family tree:
Ask about the meaning of your last name. Has the spelling changed over the generations?


Look through old family photos with your parents or grandparents. Ask your parents to tell you about the people in them.


Ask your parents and grandparents about all the family members they remember.


Find out where your family members were born. Can you find a time when there were no members of your family in the United States?


See if someone has a written history of your family.
Plant your tree
Tracing your family back through generations is called...
Zoology
Your savings habit
Genealogy
A tracing habit
Once you know about your family, you can create your own family tree. You can
use this activity
to help you get started.
Once you get the hang of it, you can design a unique tree that really shows off what your family is like.
If your family likes sports, make a sports design with footballs and baseballs. If all of the female family members are named Rose, make a rose design. Put your own creative touch on it!
Try adding birth dates and death dates. How about stepsisters and stepbrothers? Is someone in your family famous? Infamous? Design a family tree around that person who stands out in your family!
Grow even more!
Make a bigger tree by taping pieces of paper together side-by-side and top-to-bottom to create a huge canvas to lay out your family history.
Now, add all of the aunts and uncles who came into your family through marriage, and their children, who are your cousins!
Are you lucky enough to have great-grandparents still living? Add them to your tree! Even if they are no longer living, you probably can find out their names and add them to your growing family map.
You will learn a lot about yourself as you research and draw your own family tree. Maybe someday there will be little branches coming off you!

True or False: Andrew Jackson was against slavery and actively campaigned to abolish it. Click Andrew's head for the answer.
FALSE: Jackson was not against slavery and in fact owned slaves at his mansion, the Hermitage.
Tweet