Self-Employment: Reap the Rewards
Stress makes a good story
The graduation video that almost wasn't.


Sometimes it's stressful when I have a lot projects and not much time to do them. Those scary or tense projects turn out to be some of the most interesting times for me in A Media!
The week of high school musical is especially challenging. I'm in the musicals at my school, so I just set up a camera and let it roll throughout the show. Usually I film one or both of the grade-school matinees the day before opening night.
That gives me enough time to complete the video, taking parts from both shows. I'm usually up until 3:00 am cutting camera angles and various shots.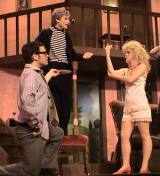 The week of the high school musical is especially challenging.


This is one of the most stressful weeks of the year because of the late nights and pressure from being in the shows.
My hard work is rewarded, however, when I show everyone the finished DVD at the cast party a mere four days after I film the show!
Reap the rewards
Over the years, A Media has had its ups and downs. At first, I put lots of money into it and wasn't getting much work. But thanks to a few high-profile projects and some creative advertising, I'm now making a profit.
Many stressful hours and late nights go into sustaining A Media. I have to work very hard and be committed to my customers to stay running.
So far it's been great. It pays better than a boring minimum wage job at McDonalds and I get to work whenever I want from home. I love waking up and coming to work in my pajamas!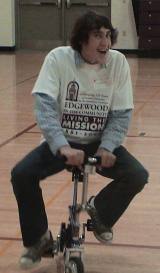 "I'm 16-years-old, and self-employment is very good to me."
—Alec Jankowski


In addition to A Media, during the summer I worked part-time at Discover Mediaworks, a television production company in Milwaukee.
I would make the two-hour commute to Milwaukee gladly, as I learned a lot from the experts who worked there.
I also work as the editor at Velocity Systems, which makes promotional videos for universities and businesses.
When there are lulls in projects, it's nice to have a steady source of income, albeit not as much as A Media brings in.
Overall, I love owning a business. It's easy, pays well, and I set my own hours (which is definitely the best part of the job!)
On the horizon
When it comes to hiring more people, I'm a bit hesitant. I've only had one or two projects that I've been hard pressed to do myself. It's mostly a one-person job.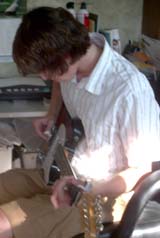 I like to relax with my guitar.


Maybe, in a few years, when I have more equipment and more projects, I'll think about hiring some employees. For now I'm fine by myself.
I don't know my long-range plans for A Media. Currently, I'm working on a project for a high-school reunion and I'm about to start a video for an anniversary. I just finished three graduation videos and plan to do more next year.
I don't know where I want to attend college or what I want to study, but I'm thinking about something in motion-picture production or computer animation. I plan to continue A Media as long as I can, and look forward to getting new, more powerful equipment and software. Though I don't have any set plans for my future, it definitely includes A Media.
I love self-employment, and as long as there is demand for my services, I'll continue making professional videos.

True or False: Contrary to most people in colonial America, Benjamin Franklin was well-educated because he had gone to a university in England. Click Ben's head for the answer.
FALSE: Franklin was only in school until he was 10-years-old. While there he did very well in writing but poorly in arithmetic. The remainder of Franklin's education came from reading and debating with friends.
Tweet