Choose the Right Career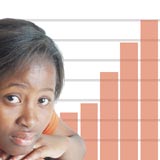 Most high paying jobs require a college degree or more.

Which occupations don't look so good?
Careers in the manufacturing sector don't appear to have such a rosy future. Manufacturing of textiles, computers and electronics may actually decline in number. The same is true for occupations in travel agencies, the postal service, data entry, and news analysis.
However, the future for construction labor jobs looks promising.
More education still means more money
Studies show that, in general, the more education you have, the better your earning power. Occupations for graduates with an
associate's degree
are expected to grow the fastest, by about 19%.
Higher education gives you more specialized training and makes you more desirable to prospective employers.
Does this mean that if you choose on-the-job training, you won't find a career you like? Definitely Not. It just means those careers aren't growing as fast as those with some type of post-secondary degree.
There are also other ways to reach your dream career. Entrepreneurs (people who start their own businesses) or people who started at the bottom of the ladder can be as successful as Harvard graduates.
Five Hot Entrepreneurial Businesses
Here are five entrepreneurial businesses worth checking out:
Real estate services: High-end real estate hasn't been affected by the slow economy. Demand for home alarms, household help, and landscape design for these properties is still growing.
Pet-care services: Demand for services for pampered pets like grooming, pet sitting, and walking are increasing.
Senior or elderly care: Baby boomers (the 45 to 64-year-old population) make up 26% of the U.S. population today. By 2035, one of five people is expected to be 65 or older.
Technology-based companies: Biotechnology is a hot field right now. There always will be a need for disease cures and new medicines.
Organic food production and sales: Americans are becoming more aware of their health. One byproduct is that production of organic foods is increasing. Also, since these foods are natural, they need to be produced close to where they are sold.
Do you have what it takes to be an entrepreneur?
How do you decide?
Chart: How Education Pays

While there are all kinds of charts, graphs and statistics showing which jobs are smart choices, there are other things to consider.
For one thing, you probably won't be happy if you choose your career based solely on potential starting salary or job availability. Think about what you like to do.
Remember that high school and college are a great time to explore your options. Take different classes and learn about all kinds of careers.
If you're still stumped, try this five-minute career quiz from the Princeton Review. A quiz like this has no single right answer, but it might lead you in the right direction.
You don't have to make up your mind right now. Most adults change careers several times during their lifetimes. If you make an informed start, you're probably more likely to be happy with your choice. So, talk to your parents and teachers and visit your guidance or career counselor. They can all be great resources!
For general information on different careers, go to:
How do you get there?
If the only summer job you can find is flipping burgers or running a cash register, you might wonder how this will help you reach your career goals. In fact, there are plenty of things you can learn in these jobs. That means that even your first job can help you with your career later on.
FastWeb explains that there are at least five major things you can learn while flipping burgers or working at an entry-level job. The online magazine finds that in an entry-level job you can learn how to help customers, how to treat co-workers and customers professionally, how to handle "difficult" people, how to work as part of a team, and how to step up during busy times. These skills are extremely important.
A NACE survey says that communication skills are the most important qualities they look for in a candidate. Surprisingly, communication skills are also what they say most new grads lack!
No one can tell you exactly what career is right for you. If you balance growing career opportunities with your interests and educational plans, you're likely to find something that you enjoy.
And while it may take hard work to make it to your dream career, if you use every opportunity to learn along the way, you'll surely find it!

True or False: Andrew Jackson was the first President to be born west of the Appalachian Mountains. Click Andrew's head for the answer.
FALSE: He was born in Waxhaw, South Carolina on March 15, 1767. Waxhaw is now part of North Carolina, and is surrounded by the Appalacian's.
Tweet