From Seoul to Minnesota
We're different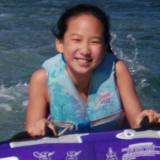 Jessica likes tubing and American Idol
In South Korea, they eat pretty much the same foods—like rice and vegetables—every day.
In the United States we have more of a variety of foods, such as American, Mexican, and Italian.
In America a lot of families own their homes, and have yards. In Seoul, most people live in apartments and don't have yards. If a family lives in a house that has its own yard, it's very expensive, and the yard isn't very big.

She really likes the yards, being outside, and the fresh air. She goes outside and kicks the soccer ball around with Anna, and she likes to jump rope.
Another big difference between South Korea and America is education. In South Korea, they go to school until six o'clock at night. Then they go to three-hour English and math academies.
When they get home from their
academies
, they are up doing homework after midnight. They don't have time for sports and other activities kids do in the United States.

Jessica's tour of American life
Time to go
Jessica's last three months pass by very quickly. The last day of school seems to appear out of nowhere, and she only has two weeks left in the United States.
She really enjoys the two weeks of summer vacation, because when she gets back to Seoul she will go back to school right away.
Why is Jack making that funny face in his author byline on the right?
Jessica just poked him
He's about to push Jessica in the pool
He's celebrating Jessica's birthday
The last week Jessica's here, she ends her American experience where she had started it—
at my uncle's cabin
. When my mom takes Jessica, my sister Anna, and their friends to the cabin, it's the last time I'll see her. We say goodbye. Then they leave for the cabin.
I'm sad, but I make it through my day. When the week at the cabin is up, I'm at a tournament in Wisconsin. My mom calls and says they have just dropped Jessica off at the airport. I imagine Jessica in the air, flying back home.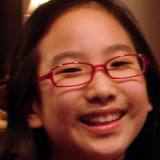 Happy birthday, Jessica!
When we are all together again, we're sad that there are only four of us. But we keep each other company and remember the good times we had with Jessica.
I'm so glad that we had Jessica stay with us for nine months. We've learned many things, like how to share. We've celebrated her birthday with her, and watched her English improve.
I recommend that you talk to your family about hosting an exchange student. It's a positive experience. It's really cool to learn a new culture!

True or False: Andrew Jackson was quite the mediator when he was growing up. He preferred to solve problems and disagreements through words. Click Andrew's head for the answer.
FALSE: A majority of Jackson's mediating was done with his fists. He would get into fights at the slightest provocation. He even entered a duel with Charles Dickinson that left a bullet in Jackson's chest and killed Dickinson.
Tweet