Holiday Shopping: Bust the Stress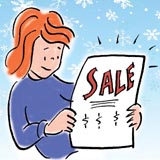 When is a bargain not a bargain?
Before you shop
You're almost ready to go, but before you shop:
Organize your list. Group similar gifts and the stores where you find them. This way, you save time and stress by not revisiting the same store numerous times.
Shop for bargains ahead of time. One way to do this is by "flyer shopping." Go around to the stores you plan on buying from and look for their sales flyers.
Or check your local newspaper to compare prices and find the best deals.
Usually, I look in my Sunday paper where there are tons of advertisements for the bigger stores in my town. Looking through advertising flyers also gives you more gift ideas.
Stock up now for later. Sometimes I find good deals at the craft store where I buy my earring supplies. When that happens, I stock up on the supplies for later!
Summary of tips from this article
Set a date. Setting a shopping date helps you stay in control. Pick a date that fits the schedules of the others you might be shopping with.
Make sure to shop when stores have sales.
Have a plan. Keep your budget in check. Think about it ahead of time: How will you make sure you stay withinin your budget?
After the holidays
One way to do this is by making two columns. Label one pro and the other con.
In the pro column jot down things that went well while shopping.
In the con column put the things that didn't work out.
This will help you save even more time and money in the future.
By following these tips you can shop all you want without spending too much money and getting stressed out. Any holiday can be fun and inexpensive—with a little planning.

True or False: Jackson won the popular vote twice. Click Andrew's head for the answer.
FALSE: Jackson won the popular vote three times. Before becoming president in 1828 and reelected in 1832, Jackson won the popular vote in 1824. But because he did not win a majority of the electoral votes, the vote went to the House of Representatives, which selected John Quincy Adams.
Tweet