Think about your talents
What do you like to do?
For example, do you like to make different kinds of knots? Boys and girls both like hemp jewelry, made by tying knots in hemp twine of different colors.
Do you like working on art or craft projects? Try these special crafts.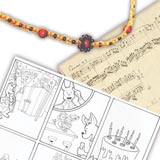 Create a happy birthday comic strip!


Do you have other creative talents? Often the best gifts are ones from the heart—like writing a special song or poem, or creating a talent show.
Special handmade gifts
Use your imagination to develop these ideas for holiday gifts:
How about a handmade gift certificate to give a service, such as:
Wash your parent's car by hand, inside and out.
Organize a relative's desk and/or work area.
Do the dishes or other household chores.
More gift ideas
For more gift ideas, look for these books at your library:

True or False: Before he was president, Lincoln asked his friends to take his letters to the post office because he didn't know how to get there.
Click Abe's head for the answer.
FALSE: Lincoln ran the post office in New Salem, Illinois, before he was president of the United States. He must have known the way to get there!
"Making Things: The Handbook of Creative Discovery," by Ann Sayre Wisemann
"More Incredibly Awesome Crafts for Kids," by Better Homes and Gardens
"Making Cents: Every Kid's Guide to Money: How To Make It, What To Do With It," by Elizabeth Wilkinson
"50 Rainy Day Activities," by Fiona Watt