Paula Picasso, Googolplex's resident artist, is having an arty. An arty is a party where you can show off your artistic side. Some kids think an arty is more fun than a party, because at an arty the fun is entirely up to you!
There are no gifts, cake, or balloons at an arty. There's just you, some friends, and some art supplies. The real fun begins when you start playing arty games.
Here are Paula's five favorites:
Use your head
Supplies: Pens or markers, paper plates, timer
Artists: Three or more (plus one "judge")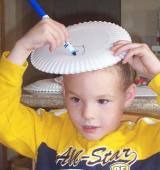 What's he drawing?


The first time, you're the judge.
Tell each player to think of something to draw.
Give each player a paper plate and a marker or pen. Ask him to write his name on the bottom and place it on top of his head. Tell the player he must draw a picture of the item onto the plate…while it's still on his head!
The player may use one hand to hold the plate in place, while drawing with the other hand.
After two minutes are up, tell the players to stop drawing. While the players keep the plates on their heads, remove each one. Place the plates drawing-side up on a table, mix them up, and then let everyone see the final drawings.
Which picture is the best? Everyone votes for his or her favorite. If there is a tie, you get to declare the winner.
The artist who drew the winning picture becomes the new judge, and selects a new item for everyone to draw.
Read on to learn how to play Place the Face...