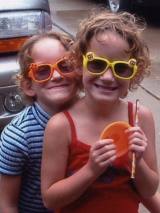 Andie (left) and Hunter share their holiday traditions.


Andie and Hunter, age nine, make their wish lists way before Christmas. They dream about mp3 players, dolls and stuffed animals just like other kids.
They've been saving their birthday and chore money all year long, and now they're thinking about what Christmas gifts to buy.
"Mom usually pays for the gifts we pick out, but we pay her back for some of them with the money we save," says Andie.
Of course, gifts mean shopping! Andie and Hunter are excited about their family tradition of spending a whole Saturday Christmas shopping with their mom. They'll also surprise her with homemade gifts. They've made cards, candle holders and other gifts for their mom.
Hitting the mall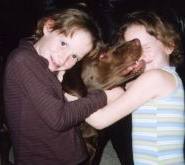 Andie (left) and Hunter with their dog, Hannah.


Hunter and Andie shop at different stores for different people, and they go to a local department store for ornaments for their teachers.
Last Christmas, Andie and Hunter picked names off the Giving Tree at school.
With their mom's help, Andie and Hunter choose a CD player for a girl, and a popular movie and candy for a boy whose names they picked off the tree.
Before the day is done, Hunter and Andie also buy a few small gifts for their best friends. But they don't spend a lot.
"It's still hard not to tell them what we got them," says Andie.
Hunter says, "We tell them what we bought other people!"
They don't shop without fuel. "We always have French fries with cheese, cinnamon pretzels and soda at lunch," says Hunter.
The last thing they usually buy is wrapping paper...